Terror at the Sweet Shop is a fast paced chapter book for young readers aged 7-10. Matthew would be able to read this book with ease as he is a confident independent reader.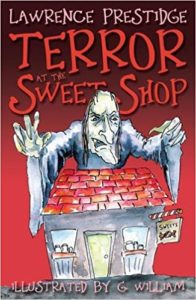 The subject of this book is the glorious sweet shop run by Mr McNulty but one day he disappears and is replaced by the sinister Miss Primrose.
The children's suspicions are confirmed when they discovered Miss Primrose is selling revolting alternatives and is actually a witch!
This book was enjoyable but quite gross! Vomit, eating worms, horrendous farts (and follow through!) all feature so beware if you have a delicate nature!
The book is also quite comedic and reminds me of the humour of

Roald Dahl

and

David Walliams

but in a simpler form so as to be accessible to younger readers.
There is also sadness and emotion in the book as we find out about the family backgrounds of the main children. The ending has a comment about kissing which perfectly sums up Matthew's attitude to if Chris and I had a major snog in public: 'Worst day ever'!
My only real criticism of the book is that it was a little short, but then I am an adult! The chapter length was appropriate to the style of the book and will give a child a sense of achievement for completing them. The illustrations are fun and help to bring the text to life.
Overall, this was a really enjoyable read and it is fun to be grossed out every now an then 🙂
Enter my competition below to win your own signed copy of Lawrence's book Terror at the Sweet Shop!
Win a signed copy of Terror at the Sweet Shop by Lawrence Prestidge
*I was sent an e-book copy of Terror at the Sweet Shop to review. All words and opinions are my own
[amazon_link asins='1785899074,1785891898′ template='ProductCarousel' store='tiredmummyblog-21′ marketplace='UK' link_id='6c2d5875-f7e2-11e7-b73a-2de26e1e062e']