One of my favourite cakes before going vegan was a lemon cake with a sugar glaze crust. I saw it again in my recipe book and realised I hadn't made it in over a year! I decided to tweak it to make it vegan and also include oranges as we had some looking forlorn in our fruit bowl.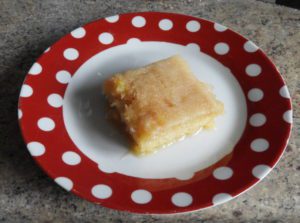 Ingredients
Aquafaba from 1 400g tin of chickpeas
200g caster sugar
200g vegan spread or margarine
250g SR flour (mine was gluten free)
1 teaspoon baking powder
zest of 1 lemon and 1 orange
Glaze
175g granulated white sugar
Juice of 1 lemon and half an orange

Instructions
Preheat the oven to 180 degrees. Line a tin with baking paper.
Whisk together the aquafaba and caster sugar for 2 minutes until frothy.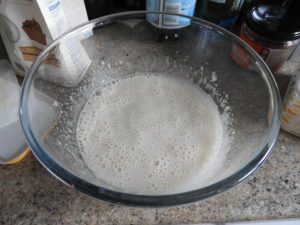 Whisk in the spread and mix for another 2 minutes.
Fold in the flour and baking powder then add the zests and mix until fully combined.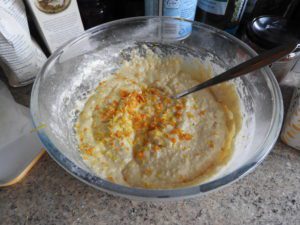 Pour into tin and bake for 30-40 minutes.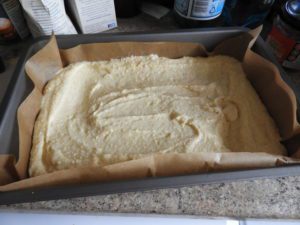 To check if cooked, pop a cocktail stick or skewer into the middle and if any mix sticks then cover with foil and bake for another 5-10 minutes.
Remove from the oven but leave in the tin.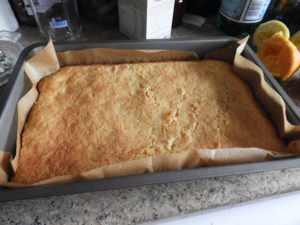 Mix together the granulated sugar and juices then pour onto the cake whilst still warm.

Leave to cool in the tin then slice and serve.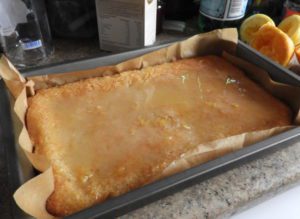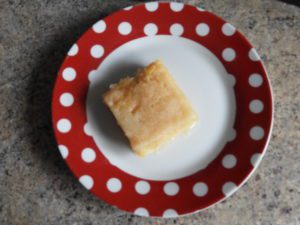 As I said at the beginning, I usually make this with 2 lemons: it could also be made with just oranges, or why not try limes?
To get the aquafaba, find a yummy chickpea recipe such as this dhal.