We were thrilled to be invited along to the launch party for Face Paintoos at

Beale Park

this weekend.
I often comment on my lack of creative style and face painting is something the children have not ever experienced at home (although as you may have see from #Project365 they have done it at school.)
When I heard about temporary face tattoos that could be used as an altenative to face painting I was excited that'd I'd finally be able to create designs and delight the kids.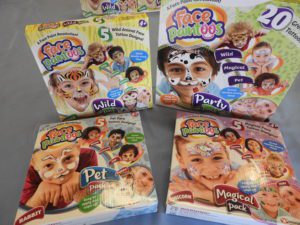 We were sent some patch tests before the event to make sure that the children would be comfortable having the designs applied to their skin and I'm pleased to report there were no issues.
We arrived at the Beale Centre within the park and met up with the wonderful Dawn, Alex and Bella from Dear Mummy Blog (I'd last seen Dawn just a few weeks ago at

The Odyssey

in Winchester and Anya had met Bella at the Lush Spring Party.)
The party organisers had given so much thought to entertaining the children. The main event was the Face Paintoos and Anya chose the unicorn option from the magical pack. All you need for application is some water and a steady hand!
Sadly the boys decided against having the Face Paintoos applied. I'm sure Matt would have been a fab dinosaur or dragon and Zach had wanted to be a cat but refused to cooperate!
The rest of the party was a blur of fun. The magician and balloon man were superb and kept both children and parents entertained. We went away with a giant buttercup, gecko and monkey.
Other tables around the centre had Fuzzikins including cute new characters. Matthew based his on Harry Potter characters and just look at Zach's concentration!
There were also games, nail art and so much more. The children had a lovely time and it was great to meet up with other bloggers and their families.
Just to show what a small world it is: on Sunday we went to my niece's birthday party and guess who was there…Bella!
*We were invited to attend this party. There was no expectation of a blog post or social media coverage. All opinions and photos are my own