I don't usually put Mexican and pasta in the same recipe, they just seem to be completely different and I think rice is a natural Mexican ingredient. So I was surprised when one of my culinary creations combining them was superb!
I had a go last weekend for our vegan barbecue (which you may have spotted on #Project365) but then for Matthew's sports day I needed a packed lunch and decided to make it again because it had been so good!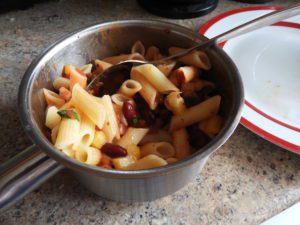 Ingredients (serves 2-3 as side dish or 1 as main meal)
Half an onion
Half a pepper
1 tablespoon fresh coriander
2 tablespoons red kidney beans
2 small tomatoes
2 tablespoons salsa
100g dried pasta (I use Tesco Free From penne)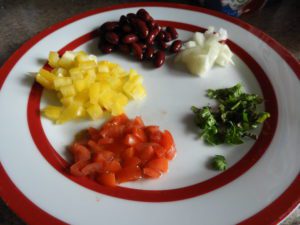 Instructions
Cook the pasta according to packet guide
Chop the onion, pepper, coriander and tomatoes
When the pasta is cooked, rinse in cold water to cool down then mix everything together until the pasta is evenly coated with salsa and the vegetables.
Enjoy!
Sadly, sports day ended in rain and lunch in the school canteen rather than out in the glorious sun but my Mexican pasta salad still tasted delicious 🙂

In my original version I included sweetcorn as I had some available. I intended to add some chopped fresh chilli or dried chilli flakes to give this an extra wow but decided against it on this occasion as Matthew wanted to have a little with his picnic lunch.