The Vegan Society defines veganism as 'a way of living which seeks to exclude, as far as is possible and practicable, all forms of exploitation of, and cruelty to, animals for food, clothing or any other purpose'.
Being vegan does not make you a good person. Yet there is a distinct air of superiority exuded by some vegans which is actually harming their public image.
I am not better than anyone else because I have become a vegan. I am just a better me than I was before.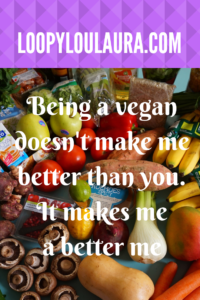 I don't want to indoctrinate or force others to change their lifestyle but I do believe that we have a moral responsibility to educate ourselves about the world we live in and that includes the processes involved in food production.
Vegans would agree that current plant crop production methods are far from ideal but it is a start. Working together is the only way to improve the living standards of animals yet some vegans turn on others to highlight their own 'superiority'.
Today I was described as an 'idiot' on a vegan Facebook group for having tried the McDonalds vegan wrap (obviously I didn't eat the tortilla due to my wheat allergy). I simply wanted to eat with my family!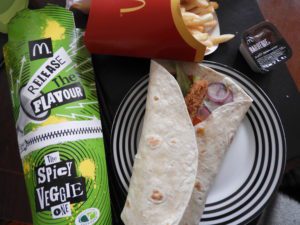 Snobbery and a rejection of brands based on their past record will not improve their future stance. Raising awareness and conducted unified political action is the only way that change will occur.
Just look at the feminist fight. There was only success when the right of their argument became evident to the masses. Equality between the sexes is still not achieved but it is a heck of a lot better than 50 years ago!
Even vegetarians are ostracised by some vegans for not being committed enough. This is wrong: they are doing what for them is possible and practicable as described above. 20 years ago when I became a vegetarian, I had to battle with my mum who refused to cater for me (I can see her point, having cooked 5 separate meals on Saturday!) then I was hit with my wheat allergy diagnosis and had a massive adjustment to cope with. Now I am confident and ready to go further but for those 20 years I have still made a difference to animal welfare.
The introduction of vegan options on the

high street

normalises veganism and paves the way to a future where animals are treated with respect. It makes children see veganism as a non-limiting lifestyle and one that they can replicate. It allows discussion to take place and then education so that our future generations can make informed choices and make the world a better place.
Humans are animals too. Cruelty free should apply to us as well so being insulting goes right against the very core of the vegan philosophy. Be kind.