I was a little bit worried about how I would get on when we went away on holiday. Now I know Scotland is part of the UK, but I was concerned that I would struggle to find wheat free vegan food easily. We had purposely chosen to have a holiday cottage so that we could cook if necessary and I thought that I would put my health first and revert to vegetarianism during the day. Thankfully my fears were unfounded and I remained vegan throughout!
The majority of meals I relied on chain restaurants which offer a variety of vegan and wheat free food. Many smaller places did not have online menus so it was difficult to find out what options were available. I was delighted to discover a vegan soup and sweet treats at the Highland Folk  Museum and a veg chilli jacket potato at Adventure Planet and veg chilli with rice at our second hotel.
At the hotels I started the day with a hearty breakfast of hash browns and baked beans with grilled tomatoes.
In our glamping pod, I tried out these microwave meals. They were actually quite strange. Every mouthful was different as the flavours merged: sometimes the blend was a little unpleasant whereas others it was fab!
At our holiday home I enjoyed soup! These cans did not say they were vegan but the ingredients contained no animal based products so I used a bit of common sense and ate them. It is likely that they are made alongside milk and egg products which is why they cannot be labelled as vegan due to the risk of cross contamination (especially as it may impact on dairy allergies)
I confess we ate a good few McDonalds whilst away as we knew it was somewhere we could all eat. I love the vegan goujons (no bun or wrap).
Matthew states that his favourite restaurant is Ask Italian and my lentil ragu pasta was fab, just what we needed on out soggy day in Glasgow!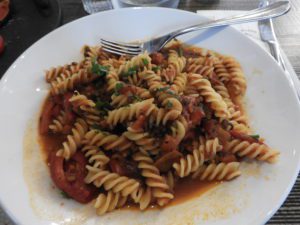 I'd seen that Bella Italia had a new set of vegan and gluten free dishes and couldn't choose! Luckily, Chris offered to share so we could try out new things together. I had the caramelised onion flatbread and non-meatballs. For the main course we had pasta in a plum sauce (interesting and tasty combination I wouldn't expect as I associated the flavour with Chinese not Italian) and a spicy Oumph pizza which wasn't that spicy 🙁
I was a little worried about Chiquito. It used to be our favourite restaurant before I went vegan but we hadn't been yet this week. I had reached out to them recently to ask about their vegan menu which did  ot have any gluten free options. They advised me to speak to staff at the specific restaurant to discuss options. I'm so glad I did.
I was a little taken aback when the server grabbed a chair and sat down at the table with us but he went through the menu and described how each vegan item could be adjusted for me personally. What fab service! I enjoyed veg fajitas with vegan mayo and cheese and corn torillas.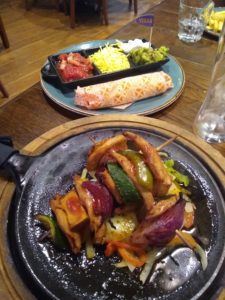 Frankie and Benny's is another chain that we have avoided due to the apparent lack of meals that were both vegan and gluten free.  However, by coordinating the menus I was able to enjoy potato skins and a veggie pizza.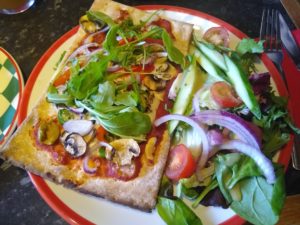 On our final night we had a bit of a disaster when Ask Italian was full but instead we discovered a Midlands chain called Ego. I tried the vegan paella and it was soooo delicious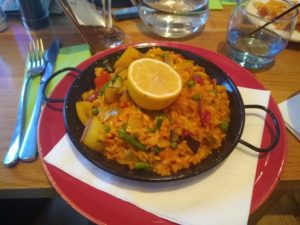 On the drinks front, I was very happy to see that the owners of the holiday cottage had provided 2 bottles of wine, both of which were suitable for vegans! On the final night I enjoyed an alcohol free cider: Kopparberg's alcoholic version are not suitable for vegetarians or vegans (I was horrified to discover this and traumatised a fellow vegan by telling her as she was drinking it a few weeks later 🙁 ) but the alcohol free versions are great and I enjoyed the new blueberry flavour (it's also gluten free)