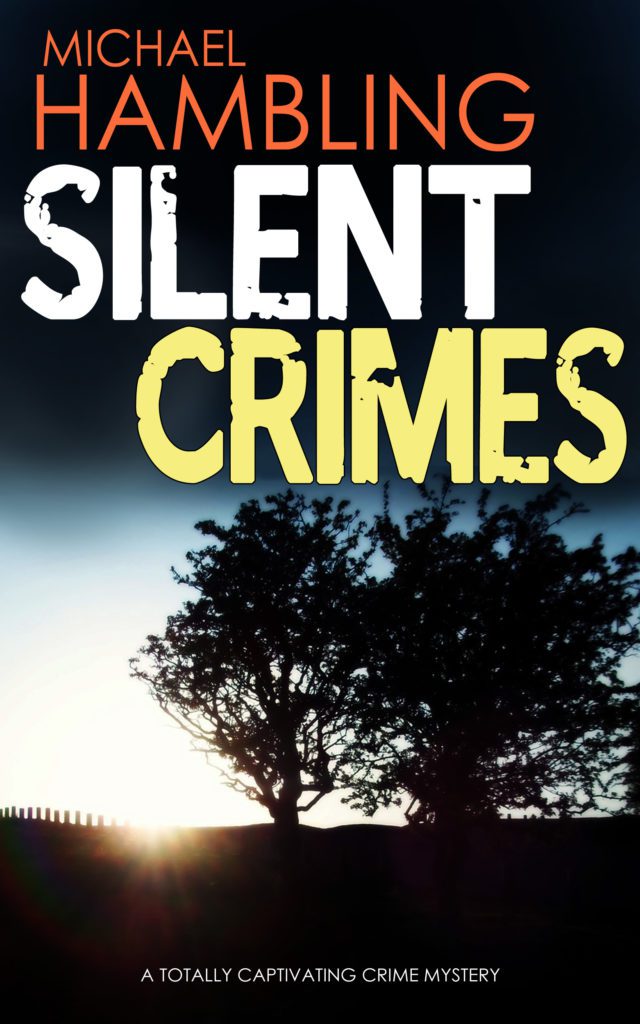 Somehow the previous 7 books in this series had escaped my notice (I blame the kids as I gave up reading due to lack of time and am now rediscovering my passion as I try to inspire them to love books too). Book number 8 Silent Crimes works perfectly as a stand alone book and I actually didn't realise there were previous books until information at the end of the book lists them.
DCI Sophie Allen's daughter Jade discovers the body of a local tramp who she had befriended and fed. It becomes clear that Paul Prentice had left the world behind in order to escape his past. He was a member of a commune over a decade ago; internal politics, rifts and relationships had led to the disappearance of the owner Katie and then the disintegration of the commune.
Allen liaises with other police forces to pursue the investigation and secrets begin to unravel…
Michael Hambling has created a storng female lead but in this book she is very understated. There are little touches of description from her daughter and colleagues that possibly hint to a more dominant personality than is explored in this book but may be present in the preceding ones.
There is little violence or graphic forensic detail in this book: the focus is very much on the police investigation. At one point Rae discusses her boyfriend's love of police novels and TV shows,  laughing at their hype and stereotypes which are rarely representative of real police work.
The investigation concentrates in several directions as the current murder is connected to the disappearance of Katie and also linked to the attempted murder of another commune member. The perpetrator of the latter crime has just been released from prison and is intent on creating problems for his 'enemies' but did this include murdering Paul?
All of the loose ends are concluded by the end of the book and the full detail of the motive and culprit is not revealed until right at the end.
Silent Crimes is a very enjoyable police investigation novel. I liked the range of detective characters and now want to read the rest of the books in the series to see how their personalities, relationships and careers have progressed up until this case.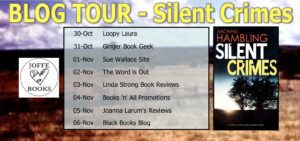 SILENT CRIMES (Detective Sophie Allen #8) by Michael Hambling
Looking for a gripping mystery by a best-selling author? Full of twists and turns, this crime thriller will keep you turning the pages until the satisfying conclusion.
AN INTRICATE MYSTERY FULL OF BURIED SECRETS
Detective Sophie Allen's daughter discovers the body of a reclusive tramp in remote woodland in Dorset. He's been dead for a week.
Sophie and her team try to piece together something about his life, but progress is slow.
NO ONE IS QUITE WHAT THEY SEEM.
Then a hidden package is discovered near his rudimentary shelter. The police also find out that someone has been in the area asking about the tramp recently. A picture begins to emerge.
He was an important member of a commune that had a three-year existence on a farm on the Quantock Hills in Somerset more than decade earlier.
WHAT HAPPENED IN THE COMMUNE AND WHY ARE PEOPLE STILL DYING BECAUSE OF IT?
Discover the truth in this captivating crime mystery.
If you like Angela Marsons, Rachel Abbott, Colin Dexter, Ruth Rendell, or Mark Billingham you will be gripped by this exciting new crime fiction writer.
SILENT CRIMES is book eight of a new series of crime thrillers featuring Sophie Allen, head of the Violent Crime Unit in Dorset.
THE DETECTIVES
DCI Sophie Allen is Dorset's acknowledged expert on murder and violent crime. She is 42 as the series starts, and lives with her husband and younger daughter in Wareham. Her elder daughter is studying in London. Sophie has a law degree and a master's in criminal psychology. Her brilliant mind conceals some dark secrets from her past.
DS Barry Marsh is based at Swanage police station. He's quiet, methodical and dedicated, the perfect foil for Sophie's hidden fragility.
THE SETTING
Dorset. A beautiful English county which includes a stunning section of the coastline, but whose beauty belies darkness beneath the surface.
DISCOVER YOUR NEXT FAVOURITE MYSTERY SERIES NOW
THE DCI SOPHIE ALLEN BOOKS
Book 1: DARK CRIMES
Book 2: DEADLY CRIMES
Book 3: SECRET CRIMES
Book 4: BURIED CRIMES
Book 5: TWISTED CRIMES
Book 6: EVIL CRIMES
Book 7: SHADOW CRIMES
Book 8: SILENT CRIMES
Join the Joffe Books mailing list to hear about the next book in the series.
Michael Hambling – author bio
Like many writers, I have been a keen reader all of my life. I remember one day as a nine year old in the summer holidays, when I visited the local library four times in one day because a child's ticket only allowed one book out at a time! I can even remember the plot of one book, a story about a boy taking up fly-fishing, read while sitting outside in a sunny back garden in Bristol.
I live in the west-country, in the beautiful cathedral city of Salisbury, although I set my novels in the neighbouring county of Dorset. We own a lovely flat in the small Dorset coastal town of Swanage, and spend a lot of time there, walking the famous Jurassic Coast world heritage site.. The early novels in the series are based on the Isle of Purbeck, one of the UK's most beautiful coastal regions. But the rest of the county of Dorset does get a look in, and there are scenes set in other locations in the central south of England.
I write because I constantly create scenes, people, imaginary conversations and unusual situations in my head. I have always done so, ever since I was a child. Using the richness of the English language to set down these creations in words is a great joy. Maybe by the time I've edited a passage for the umpteenth time it's beginning to lose some of its sparkle for me, but I do believe in reshaping and polishing until it's as good as I can make it. It then becomes something about which I can feel some justifiable pride.
Who are my own favourite writers? Hilary Mantel, of course. Not just the the recent Thomas Cromwell novels, but the brilliant and sly characterisation of Beyond Black.
Doris Lessing has written some startlingly original stories over many years. I'm also a great fan of David Mitchell. He shows great creativity in all of his novels.
Philip Pullman has written many books of startling originality, full of imaginative ideas. Not just the Lara series, but the earlier Sally Lockhart novels. One of my sons bought me La Belle Sauvage (volume one of the Book of Dust trilogy) for Christmas. I loved it, so much so that I've already re-read it a month later, something very rare for me. Wonderful stuff.
Another author I've come to admire greatly is Charity Norman. She writes about families in crisis situations and how the problem is partly resolved. I came to her books with "The New Woman", a novel that probes the problems created by gender variance. Her other novels are equally good. Her writing style is outstanding.
I've recently read "The Lovely Bones" by Alice Sebold and was bowled over by it. So much emotional punch and so well written. I'll be packing her other novels to read on my forthcoming holiday.
In crime fiction I like Val McDiarmid's work, Kate Atkinson's Jackson Brodie novels and the books of Mo Hayder. I also enjoy Colin Dexter's Morse and Ian Rankin's Rebus novels.
I cannot compete with these greats, so I aim for something different. I hope that I have succeeded to some extent.
LINKS