A queen imprisoned in an abbey for 15 years. Her husband and daughters die and she prepares to escape…
Learwife is the fictional account of King Lear's wife, derived from the Shakespeare play. The plot begins where the play of King Lear ends and centres around his estranged and exiled queen.
I studied King Lear for A Level and was happy to be re-immersed in the plot alongside the characters. Lear and his daughters are dead. But one member of the family remains alive in secret. Lear's wife and queen has been kept almost prisoner in an abbey but now hopes for her freedom to allow her to grieve for her husband and children.
Learwife is full of raw emotion, love and passion, grief and pain. I was swept up in the main character's life experiences in the past and present. Politics and faith also play a key role in the drama of the book as Learwife struggles for power within the convent as the country at large adjusts to the upheaval of Lear's downfall.
The author appeals to the senses and emotions of the reader through poetic prose. The writing style is flowery and almost overly descriptive. Shakespeare would definitely approve as some of his lines are included. Juliet Stevenson's narration is perfectly matched to the text and characters.
Learwife is a captivating historical novel for Shakespeare and literature fans.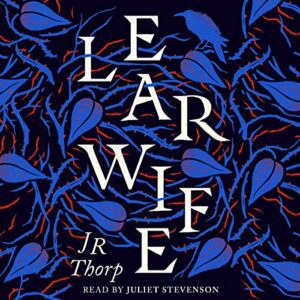 Book blurb:
Taking inspiration from two lines in Shakespeare's
King Lear

, J.R. Thorp spins an unforgettable story about love, motherhood, grief and power.
Set in medieval Britain, 
Learwife 

gives voice to one of the most famous female characters ever written out of literary history. Lear's queen has been exiled in an abbey for 15 years, since the birth of her youngest daughter, for an unknown offence. After hearing the devastating news of the deaths of her husband and daughters, the queen enters into a spiral of grief. To occupy her troubled mind, she encourages the women of the abbey into a competition for her approval, a contest that quickly devolves into savagery. Her narrative is interwoven with her memories, as a queen and mother who conceived a family plagued by madness, deceit and tragedy.
Learwife 

is a thrilling, exquisite and audacious literary debut about a woman thwarted, a woman forgotten, a woman fighting back.