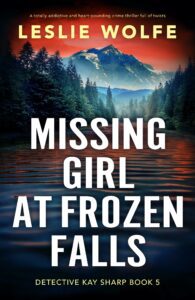 Detective Kay Sharp has to confront her past when her ex turns up accused of murdering her former best friend. Meanwhile her partner Elliot is investigating the seemingly random shooting of a teenager…
Missing Girl at Frozen Falls is the 5th book to feature Kay and her colleagues. There are personal threads of plot which continue from earlier books but no spoilers about the previous crimes.
Kay's ex husband Brian is accused of murdering his fiance. He insists on spending time with Kay and reveals that he was cheating on her before and during their marriage with her best friend Rachel who then had his baby. Now Rachel has witnessed a crime and been shot dead at home but Brian is targeted by the police. Then Kay discovers that Rachel's daughter Holly has disappeared…
Kay struggles with her emotions as she grieves for her former friend. Brian is so awful that I wonder why she fell for him in the first place let alone wants to help him now! She even puts her relationship with Elliot at risk as well as her career by pursuing an investigation out of her jurisdiction. Rachel's missing daughter provides a tension and fear to the plot as we see her mistreated by those who abducted her.
Elliot's case is also emotional. The victim has been through a lot in the last year with the death of her mother and the illness of her father. Her dad's desperation really tugged at my heartstrings and I felt Elliot's urgency to find justice and peace for the family.
Missing Girl at Frozen Falls is an engaging novel and I enjoyed the two cases being juggled by the lead detectives.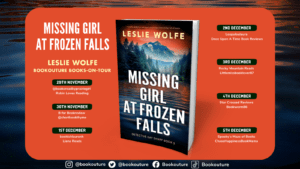 Media Pack
Author:     Leslie Wolfe
Book:        Missing Girl at Frozen Falls
Publication Day:  November  29th  2022 
Buy link(s) 
Description:
She lay in the frosted grass behind Frozen Falls. Her eyes were wide open, and the wind blew her hair, ash-blond locks reflecting the blue sky. Her face, beautiful even in death, was pale, as if the bitter cold from the mountain had drained the color from her cheeks.
On a crisp autumn day in the small town of Mount Chester, Detective Kay Sharp comes face-to-face with the past she has spent the last decade running from. Her ex-husband, Brian, has been accused of murder.
Seeing Brian brings a flood of painful memories—he betrayed her in the worst possible way. Yet despite her heartbreak, Kay is willing to put her career on the line to prove his innocence.
Brian is accused of killing Kay's former best friend, Rachel—the woman he cheated on Kay with, getting her pregnant. The blood drains from Kay's face; she received a voicemail from Rachel two days ago. "I hope you'll forgive me," she'd said, her voice fraught with tears. "I know I have no right, but I need you." Kay's stomach plummets. By the time she called back, Rachel was already dead. Could Brian really be the murderer?
Kay faces pressure from her crime team, who don't want her working on an investigation so close to home. But she's willing to risk everything—she vows to get justice for Rachel.
When Kay visit's Rachel's mother, she uncovers a heart-stopping discovery that makes the case even more critical: Rachel's eight-year-old daughter, Holly, is missing. Could the little girl still be alive?
Up against the most complex—and most personal—case of her career, can she save precious Holly before it's too late? And will Kay's determination to find out the truth lead to justice—or be her undoing?
Thrillers don't get more gripping than this! You'll speed through this addictive, twist-filled page-turner with a racing heart. Perfect for fans of Robert Dugoni, Karin Slaughter and Rachel Caine.
 Author Bio:
Leslie Wolfe is a bestselling author whose novels break the mold of traditional thrillers. She creates unforgettable, brilliant, strong women heroes who deliver fast-paced, satisfying suspense backed up by extensive background research in technology and psychology.
Her novels have a consistent presence in genre bestselling lists and a solid sales track record, with more than a million copies sold. Her bestselling series include the Detective Kay Sharp series, the Tess Winnett series, the Baxter & Holt series, and the Alex Hoffmann series.

Author Social Media Links