TRIGGER WARNING: this book deals with infertility, adoption, IVF and child illness
I hope there were not too many spoilers in the above warning and that it won't put you off reading this book.
Not My Daughter is devastating but also beautiful.
Milly has grown up knowing she is adopted and it has shaped her whole identitiy. She has her own fertility problems and is told she will never carry a biological child. Her best friend Anna immediately offers to donate an egg so that Milly can realise her dream of becoming a mother.
The IVF is successful and Milly becomes pregnant. However, it awakens emotions in Anna that she has hidden for nearly 20 years due to a termination.
Milly's pregnancy is fraught with tension but nothing prepares her for the difficulties she faces caring for a newborn. Anna steps in to help care for baby Alice but her input results in the destruction of her friendship with Milly.
Fast forward a few years and Alice is displaying worrying symptoms so Milly calls Anna is desperation. The outcome is devastating for everyone including the reader!
This book really is an emotional rollercoaster and, despite the immense sadness, it is a masterclass in modern writing. Each chapter is told from the perspective of one of the friends so we can experience their viewpoint and understand their decisions. I have read The Secrets We Keep from author Kate Hewitt previously and she used the same tactic to engage the reader.
Not My Daughter raises many issues that are relevant to our society as well as increasing awareness of a rare disease.
Simply stunning.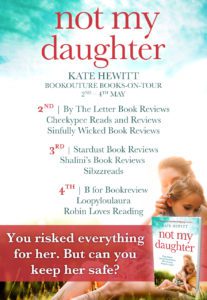 NOT MY DAUGHTER by Kate Hewitt
Book blurb
Anna's hands tense on Alice and she hesitates. In that endless pause, I see all I need to know. She doesn't want to give Alice to me – not now, and not ever. And part of me doesn't even blame her…
Milly always dreamed of being a mother. Adopted herself, she has always imagined a powerful intimate connection with a child of her own. So when she and her husband Matt are told they can't have children, her dreams are shattered.
But then their loved ones offer the ultimate gift – Milly's best friend Anna and Matt's brother Jack will be donors so that Milly can carry a child and finally have a chance to be a mother. And with everyone accepting and open, Milly believes that nothing could go wrong.
Except none of the four people involved are prepared for the feelings that will threaten their most important relationships as their precious, longed-for daughter Alice grows up…
But when Alice turns four, she receives a heartbreaking diagnosis. And the four people who love her best will have to decide what it means to be a parent, and to make decisions with far-reaching and devastating consequences… for Alice, and for themselves.
A powerful, heart-breaking novel guaranteed to make you cry, for fans of Jodi Picoult, Diane Chamberlain, and Gracie's Secret.