A world at war, family divisions, love and loss. Into the Darkest Day is a beautiful tale set in the present day and during the Second World War. British sisters Lily and Sophie Mather fall in love with two American soldiers, Matthew Lawson and Tom Reese. In the present, Sophie's grandson visits Tom's granddaughter and a tentative relationship emerges as they investigate the reasons that Tom may have left his Purple Heart medal with Sophie but kept a Distinguished Service medal belonging to Matthew.
As readers, we are in the privleged position of seeing both timelines. I enjoyed the present day unravelling of the mystery of the medals but my heart was caught by the tale of Lily and Matthew during the war. I read this book over the VE Day bank holiday weekend and this added an extra poignancy. Plus I am a history graduate so have an avid interest in the subject and enjoyed the historical realism.
The main four characters of Abby and Simon in the present and Lily and Matthew during the war, are appealing and inspire empathy with their dilemmas and experiences. Sophie and Tom also receive a sympathetic treatment despite their selfishness and self pity.
This book was originally titled The Forgotten Heart which I think should have remained as it has multiple layers of meaning in relation to the plot and characters. First of all, it could refer to the Purple Heart medal, but did Tom and Sophie ever really forget each other or their broken love? It could represent Abby and Simon's lost love and family in the present day which makes them both afraid of opening up their hearts again. Finally, it could refer to Matthew's lost emotions due to the heartache and cruelty he has experienced due to Nazi brutality and the bloodshed of war.
This was quite different in tone and style to the other books by Kate Hewitt that I have read (No Time To Say Goodbye, Not My Daughter, The Secrets We Keep). It was a very emotional book about the best and worst of humanity, utterly captivating.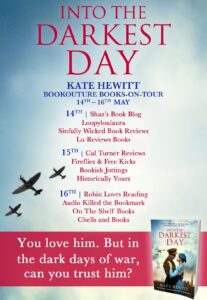 Into the Darkest Day Book Description:
She had to step outside and hold the paper up to the moonlight to read it, but when she was able to make out the words, her heart felt as if it would drop right out of her chest. Because the message was in German.
1944, London:
When Lily meets enigmatic GI Matthew in war-torn London, she doesn't expect to fall in love. While her sister starts a reckless affair with another GI, Lily tries to hide her growing feelings for Matthew.
But Matthew has a devastating secret. One that could change their lives forever.
Present day, USA:
Abby lives a quiet life on an apple farm in Wisconsin. Tormented by survivor's guilt after the tragic deaths of her mother and brother, Abby leaves the orchards as little as possible, keeping her life small, peaceful and safe… Until she is contacted by Englishman Simon Elliot, who arrives nursing a heartbreak of his own, and bearing a World War Two medal that he claims belonged to Abby's grandfather.
Together they begin to piece together the heartbreaking story of their relatives' war. But as the story brings Abby and Simon closer—tentatively beginning to lean on one another to heal—they uncover a dark secret from the past.
And like Lily and Matthew nearly eighty years before them, it will make Abby and Simon question whether you can ever truly trust someone, even when they have your heart…
A heartbreakingly powerful, epic love story about courage, friendship and broken trusts, Into the Darkest Day is an unforgettable story perfect for fans of Nora Roberts, Kristin Hannah and The Notebook.

Author Bio:
Kate Hewitt is the author of many romance and women's fiction novels. A former New Yorker and now an American ex-pat, she lives in a small town on the Welsh border with her husband, five children, and their overly affectionate Golden Retriever. Whatever the genre, she enjoys telling stories that tackle real issues and touch people's lives.
Buy Links: