Nathan's world falls apart when his wife is shot on the subway. He realises that he has spent too much time working and not enough with his family and now it is too late. He finds out his wife was volunteering at a refugee centre and goes there to find out more. He meets Maria, a Bosniak immigrant who had befriended Laura.
No Time to Say Goodbye is a beautifully written and poignant book about love and loss. I am ashamed to admit that I know little about the civil wars that affected the area but Maria's experiences are raw and heartbreaking.
The emotional complexities of grief for Maria, Nathan and his daughters are explored in a thoughtful and sensitive way. Nathan's realisation that his relationship with his wife Laura was not as close as he believed is devastating to him and a reminder to us all that we shouldn't take love for granted.
Life can change in a heart beat and there is no time to say goodbye to the past but we must adapt and cope with life's challenges any way we can.
I have enjoyed two of Kate Hewitt's previous books so take a look here: Not My Daughter and The Secrets We Keep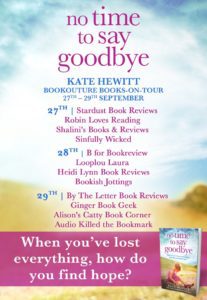 Book Description:
It hit me, the reality of it, in a way it hadn't before like a sledgehammer straight to the chest. Laura was gone. She was never coming back. I'd never see her again; she'd never hum in the kitchen, she'd never pull Ruby onto her lap and tickle her tummy as she buried her face in the sweet curve of our daughter's shoulder.
Nathan West loved his wife Laura with all his heart. But now she's gone, taken from him in a seemingly random act of violence. Laura was the glue that held their family together. And for Nathan, life without her feels almost meaningless.
As he tries to find hope in the darkness, his three young daughters express their grief in different and challenging ways – with one set on a path of self-destruction that could devastate their family all over again. Desperate to understand his own heartbreak better, he reaches out to others who had known Laura. Including her new friend Maria, whose light and warmth are exactly what their grieving family needs, and who is soon helping out and providing emotional support for them all.
But the picture Maria paints of Laura is unfamiliar to Nathan – of
a wife who felt ignored, a mother who felt she couldn't do enough – and he struggles to reconcile it with his own memories of the woman he loved. Is it possible he didn't know his wife after all? And can he trust Maria? He can't escape the feeling that she's keeping something from him.
Maria is hiding a secret with the power to rock Nathan's family to its core. Because it is about what happened the day that Laura died…
An insightful and powerful novel guaranteed to break your heart, about how the unthinkable can sometimes help us see the world in a powerful new way. Perfect for fans of Jodi Picoult, Diane Chamberlain, and Susan Lewis.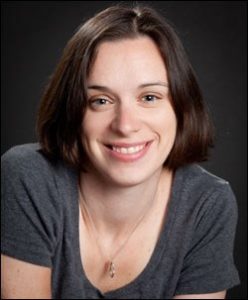 Author Bio:
Kate Hewitt is the bestselling author of many novels of women's fiction, including the Hartley-by-the-Sea series set in the Lake District, the Willoughby Close series set in the Cotswolds, and Tales From Goswell written as Katharine Swartz. Her novel A Mother's Goodbye has been called 'unputdownable' and 'the most emotional book I have ever read' by readers. Not My Daughter and her latest novel, No Time to Say Goodbye are both available to buy now.
An American ex-pat, she lives in a small market town in Wales with her husband and five young(ish) children, along with their two Golden Retrievers. Join her newsletter for monthly updates and giveaways at http://www.kate-hewitt.com, or be part of her Facebook groups Kate's Reads.
@katehewitt1