Liesel Scholz is a teenager growing up in Nazi Gernmany. Her father is a chemist and his skills are being used to support the impending war. She is thrown into a world of high ranking Nazi officials yet is horrified by the violence and cruelty she sees in the streets.
1945 and the war has just ended. Captain Sam Houghton arrives from America to deal with the aftermath of wartorn Berlin. He finds a people broken by defeat and hardship. He hires a young secretary to help him with translation but can he trust her…?
The Girl from Berlin is an excellent dual timeline novel. The timelines are only separated by a few years at most yet the dramatic changes are huge. Both plotlines were convincing and compelling, drawing the reader in to puzzle how they are connected.
This book appealed to my history degree as well as my psychology masters. The situation for 'normal' Germans in the face of rising Nazism as well as the coping mechanisms for surviving war. Author Kate Hewitt has clearly conducted careful research which brings an authenticity to the plot and descriptions.
Liesel develops from child to adult over the course of the book and discovers that her perfect lifestyle comes at a price. I had plenty of suspicions about what chemistry Liesel's father was developing and was not disappointed to be proved right with his horrifying revelations at the end of the book.
The links with the other postwar timeline were quite obvious but it was fascinating to see the plot unfurl. I read with a distinct sense of dread and anticipation and was not disappointed. The horror of war and Nazi atrocities are handled sensitively and often subtly but this does not reduce their power to shock.
The Girl from Berlin was hugely enjoyable despite the tragedies included within its pages. Beautifully written and lovingly researched.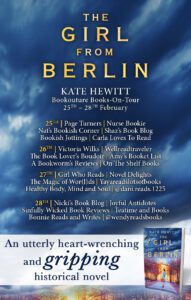 The Girl from Berlin book description:
1936, Nazi-ruled Berlin. A heartbreaking and stunningly powerful novel of friendship, courage and betrayal, about two girls whose lives collide in war-torn Berlin, and whose friendship is the only thing that might get them out alive.
They sat together on the roof, watching Berlin burn, as traces of smoke and cloud floated through the air. "I just want to be free," Rosa said quietly, "Even if only for a few minutes. It might be the last chance I have."
From her beautiful new home in Berlin, a young woman named Liesel Scholz barely notices the changes to the city around her. Her life is one of privilege and safety thanks to her father's job working for the new government.
But a chance encounter with Rosa, the daughter of their Jewish housekeeper, confirms Liesel's fears that something isn't right. That the Nazi government's brutal rules are cruel and dangerous, and that others aren't as safe as she is. When Rosa begs Liesel to help—pressing her grandfather's gold pocket watch into Liesel's hand—Liesel recklessly agrees.
She will help hide Rosa and her loved ones—in the dusty, unused rooms at the top of their house—even if it means putting everyone she loves in danger. Even if it means risking her own life.
Frankfurt, 1946: An idealistic American captain, Sam Houghton, arrives in Germany to interrogate prominent Nazis on trial and to help rebuild a battered country. When he hires an enigmatic, damaged interpreter named Anna, he doesn't expect sparks to fly between them. Perhaps there is a chance of love for both of them. But then the question of what happened to Anna in the war raises its head.
Because Anna has secrets—ones that link her to Berlin, the Nazi party, and the story of one gold pocket watch and two young women who became friends, even when they were told it was impossible…
A compelling and haunting story about courage, love and betrayal set in war-torn Berlin. Fans of The Alice Network, All the Light We Cannot See and The Nightingale will be not be able to put this down.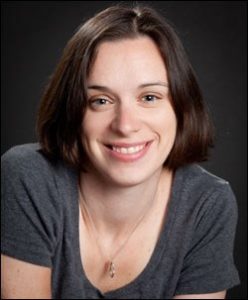 Author Bio:
Kate Hewitt is the author of many romance and women's fiction novels. A former New Yorker and now an American ex-pat, she lives in a small town on the Welsh border with her husband, five children, and their overly affectionate Golden Retriever. Whatever the genre, she enjoys telling stories that tackle real issues and touch people's lives.
Buy Links: