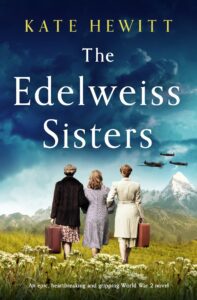 Salzburg in the 1930s. The three daughters of clockmaker Herr Eder are trying to find their role in life. But the shadow of the Nazis looms…
The Edelweiss Sisters is a linear historical novel starting in the mid 1930s and proceeding through the Nazis' invasion of Austria and the path to war. The events of the prologue set up our expectations for an emotional jounrey ahead…
Three sisters, each with a unique perspective on their family, lives and country. Birgit is plain and hopes to be apprenticed to her father's clockmaking business. Johanna dreams of secretarial school but is stuck at home being her mother's shadow as a homemaker. Pretty songbird Lotte attends music lessons but feels she has a religious vocation and wants to join a convent.
Love arrives for Johanna and Birgit but one man is Jewish and the other is a Nazi sympathiser. Meanwhile Lotte's love of God separates her from her family. There are important themes of love, loyalty, nationalism and faith which thread through the book.
The undercurrent of danger is present from the start as we know the Nazi invasion is imminent. Our own knowledge of Nazi atrocities and the vitriol they spouted ramps up the tension as we await the deterioration of the situation for the Eder family.
The Edelweiss Sisters is a compellingly emotive book which even features the Von Trapp family, made famous by the Sound of Music!

The Edelweiss Sisters book description:
1938, Salzburg. A powerful story of hope, forbidden love, and incredible courage, about three sisters who will risk everything—even their own lives—as part of the resistance movement in Nazi-occupied Austria.
Johanna, Birgit and Lotte Eder have always lived quiet lives, working in their father's clockmaking shop and helping their mother in the house. But like many other Austrians, they find it impossible to ignore the changes in the world around them.
At first Johanna finds it hard to believe the Nazis pose a real threat. But then her father hires Franz to help in his shop. He's kind and soulful, with dark eyes that twinkle with intelligence. But he's Jewish, and as Johanna falls for him, she realizes that loving him puts them all in danger.
Then comes the Anschluss—the reunification of Austria and Germany under Nazi rule. The three sisters' lives have become ever more separate with Lotte joining the convent at Nonnberg Abbey and Birgit's secret involvement with the Resistance. But as Johanna realizes how mistaken she was about the level of danger, she begins to see that it may be down to her to protect the man she loves.
She knows that she can't do it alone though. She will have to turn to the people she trusts the most: her sisters.
The three of them work together to try to get Franz to the safety of Switzerland, and they soon prove invaluable to the Resistance. But they're risking everything. Can three women who would die for each other, also be prepared to die for what is right?
The sisters' subsequent journey from Nazi-occupied Salzburg to the devastating concentration camps of Ravensbruck and Mauthausen will show the strength of human spirit like never before. As, out of the darkness, a tiny seed of hope flowers…
A totally heartbreaking and impossibly powerful story about love, tragedy, and the power of humanity. Perfect for fans of The Nightingale, The Lilac Girls and The Sound of Music.

Author Bio:
Kate Hewitt is the author of many romance and women's fiction novels. A former New Yorker and now an American ex-pat, she lives in a small town on the Welsh border with her husband, five children, and their overly affectionate Golden Retriever. Whatever the genre, she enjoys telling stories that tackle real issues and touch people's lives.
Buy Links: