Daisy and James have their whole married life ahead of them and she has just discovered she is pregnant. But then she finds herself in prison for his murder and her daughter may be taken away fromher at birth. Could she be innocent and prove it in order to keep her daughter?
The Bride is a tense and emotional psychological thriller.
Daisy is facing life in prison for the murder of her husband. She reflects on their relationship from the start as teens in Wales, through to their return from honeymoon with a baby on the way. They stopped off at a petrol station but James vanished while she was inside. Now she is accused of his murder and wants to explain events to her child.
The book is written from Daisy's first person perspective as she recalls her life and love with James before moving onto more recent events. Her confusion and emotion as well as her determination to set the record straight for her unborn daughter, are powerfully depicted.
The pace of the plot developments speeds up as we move from the past to the present. There are lots of twists and secrets which are hinted at in the first half of the book to build the tension and anticipation.
The Bride has plenty of mystery and cleverly builds the tension.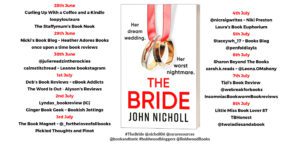 The Bride
She's on trial for murder… Now it's her turn to tell her story…
# The truth is that I loved James with my whole heart. We were soulmates: meant to be together forever. On the morning of our wedding, I had just found out I was carrying his child.
But it's time to tell my side of the story. It's time everyone knew what happened on that wedding day, on our honeymoon, and on that fateful last drive together. It's time everyone found out about the secrets and about the threat that loomed over our marriage. It's time everyone found out who really killed James.
And I need everyone to believe me. To believe I'm not a killer. Because if they don't, then my baby won't just have no father… she'll have no mother.

Author Bio –
John Nicholl is the bestselling author of numerous psychological thrillers and detective series, previously published by Bloodhound, and inspired by his real-life experience as an ex-police officer and child protection social worker. Boldwood will be publishing the next title in his Galbraith series and a new psychological thriller in autumn 2022, and will be reissuing his bestselling backlist from May 2022.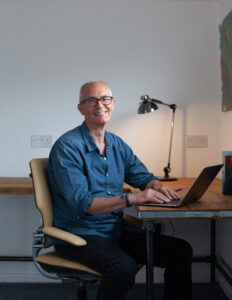 Social Media Links –