Alexa's life is torn apart when her sister is accused of murdering patients at the hospital where she works as a nurse. Carrie is living with Alexa and husband Perry folowing the break down of her marriage and Alexa's mental health concerns. She helps out with childcare for Alexa's one year old Florence. But with one of the victims being a baby, can Alexa still trust her own sister around her precious daugher…?
I found myself absolutely gripped by the plot of The Girl She Wanted. Alexa's dilemma and fears for her child are realistic and I think most readers would identify with her battle to trust her sister in light of the unfolding events at the hospital.
Alexa and her husband are already at odds as he feels Carries has outstayed her welcome. But Alexa relies on her sister and is afraid to leave the house without her sister to support her. We don't find out about the cause of Alexa's anxiety until two thirds of the way through the book and it is heartbreaking.
The style of writing is interesting as we have chapters from Alexa's first person perspective so see the effect of the accusations on her family and emotions. Other chapters are written in the third person to show the police investigation and the other family members and witnesses. This led me to be completely unsure about who Alexa could trust.
The Girl She Wanted is a great psychological thriller.
I have previously reviewed some of K.L. Slater's other books including Little Whispers, Single, and Finding Grace.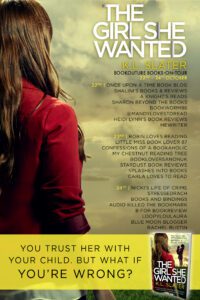 Book Description:
What if my sister is unstable and everyone can see it but me? What was she really doing standing over Florence's cot in the middle of the night?
Alexa has always looked up to her older sister Carrie. Carrie lives in Alexa's family home, and adores her one-year-old niece Florence. Alexa doesn't know how they would cope without her. So when Carrie is suspended from her job as a senior nurse, accused of the most terrible crime, Alexa reels in disbelief. Alexa knows how caring Carrie is, and as she watches Florence gurgling and cooing whenever Carrie is around, she knows her little girl is in safe hands.
Alexa's husband doesn't trust Carrie. He wants her out of the house, unable to ignore what people are saying about her. But when he suggests that Carrie could be a danger to their daughter, Alexa shuts him out. Nobody will ever come between her and her sister.
Then Florence is hurt while in Carrie's care and Alexa at last starts to wonder. Alexa has always wanted to protect Carrie from the past they have hidden. But does Alexa know what Carrie wants? And will the secret that has kept the sisters together now destroy her little girl?
A completely gripping rollercoaster of a read about the darkness families hide behind closed doors. Fans of Gone Girl and The Girl on the Train will be hooked on The Girl She Wanted.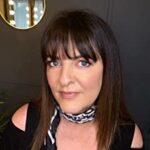 Author Bio:
For many years, Kim sent her work out to literary agents but never made it off the slush pile. At the age of 40 she went back to Nottingham Trent University and now has an MA in Creative Writing.
Before graduating, she received five offers of representation from London literary agents which was, as Kim says, 'a fairytale … at the end of a very long road!'
Kim is a full-time writer and lives in Nottingham with her husband, Mac.
Buy Links: