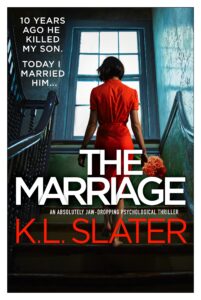 A fatal punch in 2009 between two best friends changes their families' lives forever. Jesse dies while Tom goes to prison for his manslaughter. Now in 2019, Tom and Jesse's mother Bridget have found love and marry but face the disbelief and rejection of their families. Tom's mother Jill believes Bridget only wants revenge…
The Marriage is a compelling psychological thriller. Two families have been torn apart by the events of a decade ago but nothing prepares them for the upheaval in the present day. I was instantly distrustful of the marriage between Bridget and Tom but it soon becomes apparent that there are other secrets.
The majority of the book is shown through the first person perspectives of Bridget and Jill but there are other chapters in the third person viewpoint of Tom and police officers in the past and present.
Bridget and Jill used to have a strong friendship but the death of Jesse drove them apart. Now they are forced even further apart as they battle for Tom's affections. Using their first person perspectives, it was easy to see both sides of the situation as well as Tom stuck in the middle. Bridget has been through the devastation of losing a child while Jill lost hers in a different way. Both women had hopes and dreams through their children that will never be fulfilled.
The Marriage was hugely enjoyable and entertaining. The dilemma facing the families was dramatic and engaging, and I could imagine the plot premise appearing in the tabloid papers! It was clear that a twist was on its way and I guessed a character involved in but the actual reveal was surprising.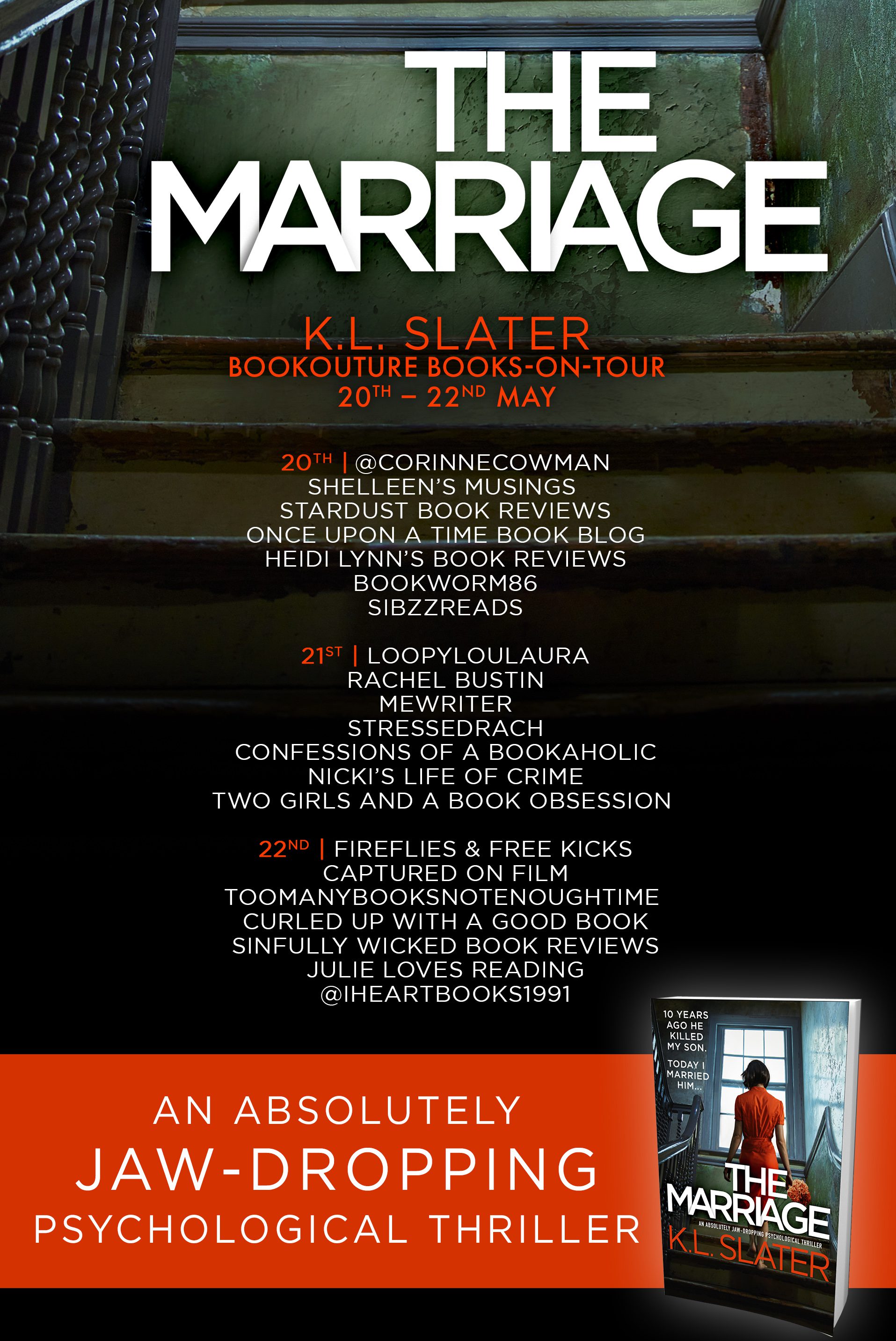 The Marriage book description:
Ten years ago he killed my son. Today I married him.
Ten years ago my darling son Jesse was murdered and our perfect family was destroyed. My strong, handsome boy, so full of life, became a memory, a photo I carried with me everywhere.
But today I'm finally close to finding happiness again. My ash-blonde hair has been curled into ringlets. Carefully placed white flowers frame my delicate features. The small, drab chapel has been prettied up with white satin, and there are tiny red hearts scattered on the small table where I will soon sign the register with my new husband.
The man who killed my son.
My friends and family can't understand it. My neighbours whisper in the street whenever I walk past. How can I love a man like Tom?
They don't really know me at all…
The most unputdownable psychological thriller you'll read this year from the bestselling author K.L. Slater. If you love The Wife Between Us or Gone Girl, you'll be totally hooked on The Marriage.

Author Bio:
For many years, Kim sent her work out to literary agents but never made it off the slush pile. At the age of 40 she went back to Nottingham Trent University and now has an MA in Creative Writing.
Before graduating, she received five offers of representation from London literary agents which was, as Kim says, 'a fairytale … at the end of a very long road!'
Kim is a full-time writer and lives in Nottingham with her husband, Mac.
Buy Links: