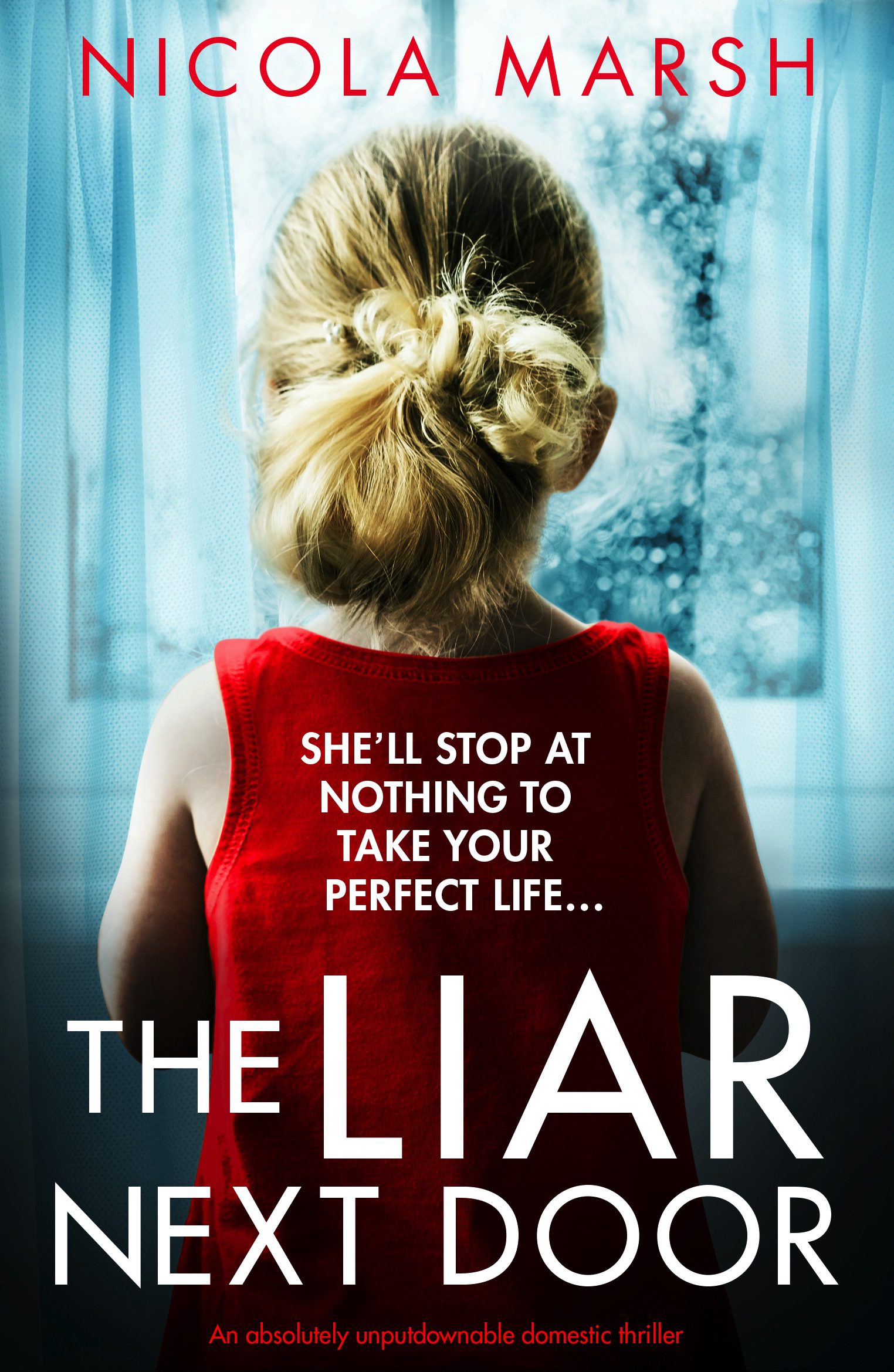 Three women, three sets of lies. Saylor hosts a housewarming and gender reveal party when she moves to a new home so that she can meet her neighbours. Single mum Celeste and famous vlogger Frankie are welcoming but all three women are hiding behind a complex web of lies and secrets…
The Liar Next Door is a tense thriller which has a psychological yet domestic edge. Every chapter ends with the narrator pondering on her situation, a little mini cliffhanger that kept me hooked as I wanted the truth!
The blurb included below only focuses on the final part of the book as the majority of the plot builds up the relationships between the three women and hints relentlessly at the deeper secrets hidden beneath the personae presented to the community.
The book is written from 3 first person perspectives: Celeste, Saylor and Frankie in the present day and then Frankie also in the past. All of the women are very likeable and the tension radiates from them as they struggle to live with their lies.
I was totally engrossed in this story and frequently trying to guess at how the plot strands would develop. The author has cleverly constructed the women's lives to deliver little clues to us as we read. However, I doubt that anyone would guess how the final chapters will play out…
The Liar Next Door was a captivating thriller that I really enjoyed reading. I have previously reviewed other Nicola Marsh books including My Sister's Husband,

The Last Wife

, and 

The

Scandal

.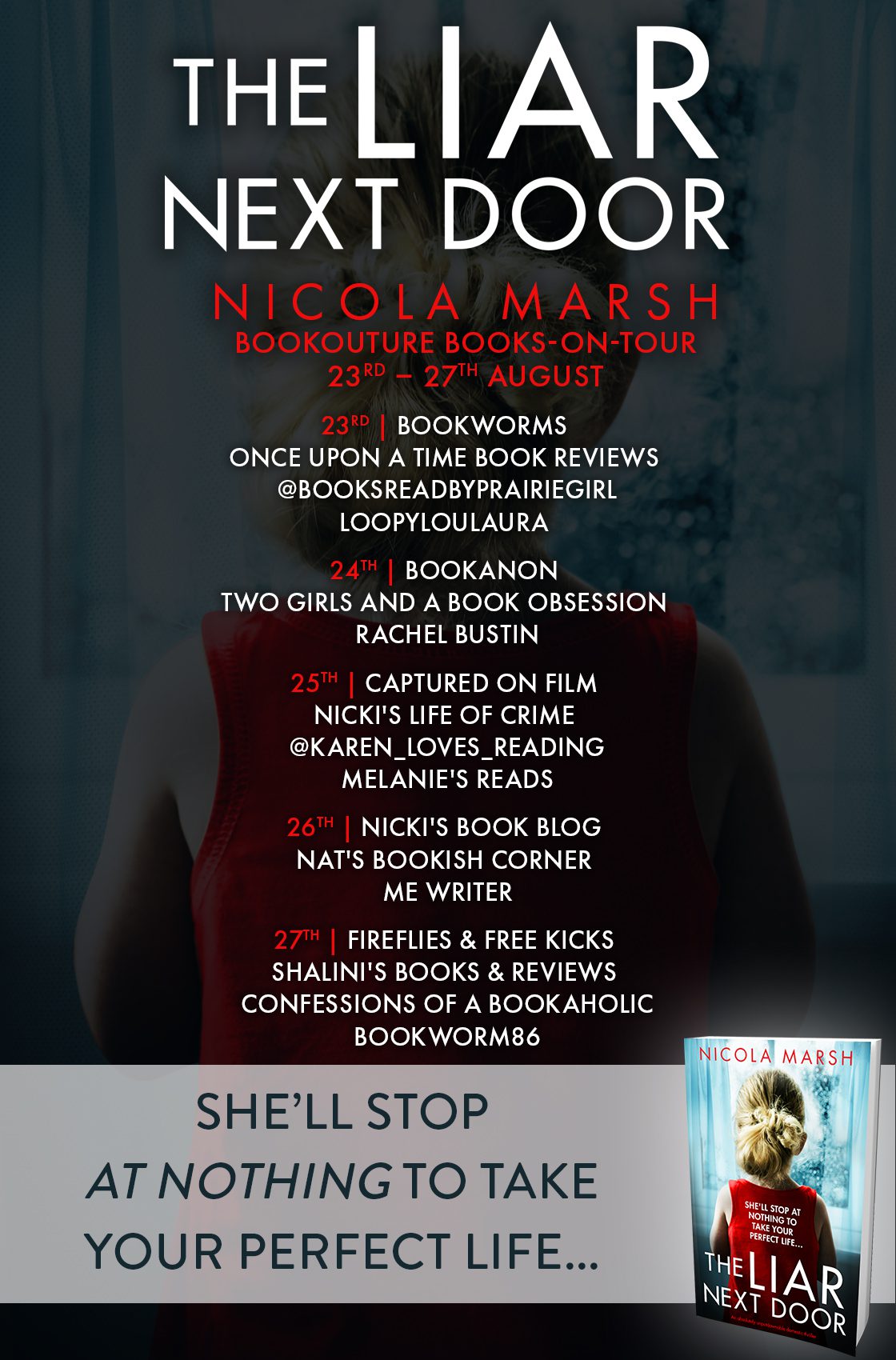 MEDIA PACK
Book: The Liar Next Door
Author: Nicola Marsh
Pub Day: August 23rd 2021
Buy Link: 
About the Book: 
Numbness floods my body as I stumble up the steps leading to my house. Inside I know my five-year-old's bed is empty, her dresser is ransacked, her overnight bag is gone. I can see her dolls lying untouched through the window of our perfect family home – in the place where I thought I could protect her forever. My daughter is missing.
You'd think my first instinct would be to call the police.
But I know who's taken my daughter.
And I know that the police can't help me.
Only I can convince the woman who has my baby to give her back. She thinks she knows my secrets… but she has no idea.
Fans of Liane Moriarty, Sally Hepworth and The Girl on the Train will love this utterly unputdownable domestic thriller from USA Today bestselling author Nicola Marsh.

Author Bio
USA TODAY bestseller and multi-award winner Nicola Marsh writes feel-good fiction…with a twist!
She has published 68 novels an

d sold over 8 million copies worldwide. She currently writes rural ro

mance for Harper Collins Australia, emotional domestic suspense for Bookouture and contemporary romance for Harlequin Dare.
She's also a Waldenbooks, Bookscan, Amazon, and Barnes & Noble bestseller, a RBY (Romantic Book of the Year) and National Readers' Choice Award winner.
A physiotherapist for thirteen years, she now writes full time, raises two dashing young heroes, shares fine food with family and friends, and her favorite, curls up with a good book!
Social Media