Charlie and Jamie relocate to Crete to start living their dream life in the sun. But one of them doesn't settle and leaves the dream and relationship behind…
What Happens in Greece is a light hearted book guaranteed to make you eager for a summer getaway! Warning : there are lots of food descriptions so don't read while hungry!
Charlie and Jamie start the book as a united couple and share a dream of leaving rainy England behind them. They move to Crete, embracing the culture and change in lifestyle. But one of them struggles to fit in (in my opinion, they made zero effort…) and returns home leaving the other on their own.
The plot develops gradually and the break up happens over a third of the way through the book. Greek food, landscape and characters are described vividly and bring the plot to life. The ending was a little abrupt and left me wanting to find out more (I'm sure there is scope for a sequel).
Love and relationships form a major theme throughout the book relating to both the main and the peripheral characters. The romance is gentle whilst the characters stay true to themselves rather than compromising. Friendships and community are also central to the plot and the lives of the characters, allowing us to see other sides to their personalities.
What Happens in Greece will get you in the mood for summer sun.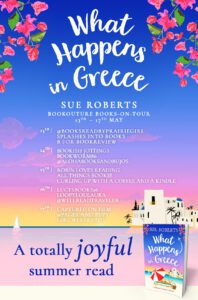 Buying a rundown cottage in Greece. A crazy, wine-fuelled idea, or the best decision she's ever made?
Charlotte takes in the scene. To the left, her (ex?) fiancé's retreating back as he runs back to civilisation; in front, the crumbling Greek island farmhouse she thought was their shared dream; and just below, a goat munching merrily on her sunhat…
At first, Jamie had leapt at Charlotte's idea to permanently swap drizzly Chester for sun-drenched Crete. Now it looks like she'll be living this dream alone. Devastated but determined, she rolls up her sleeves and gets to work turning the ramshackle house into her forever home. At least the local community welcomes her with open arms, including sexy restaurant-owner-slash-handyman, Darius.
Taking a sledgehammer to her old life, and snacking on homemade honey cake on her breaks, Charlotte begins to see the promise of a future without Jamie. But on a trip back home, he suddenly appears, wanting her back. Faced with a choice between the first love who broke her heart and the gorgeous Greek man who has been putting it back together, how will Charlotte choose where she truly belongs?
A totally laugh-out-loud and feel-good summer read about taking a chance on life and love! Perfect for fans of Carole Matthews, Jenny Colgan and My Mamma Mia Summer.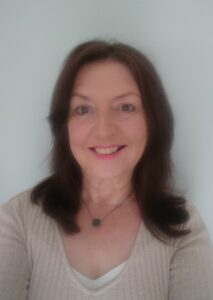 Author Bio:
Sue Roberts lives in Lancashire with her long term partner Derek and has had a lifelong love of writing, encouraged by winning a school writing competition at the age of 11.
She always assumed that 'one day' she would write a book, always having a busy household and a job, the idea remained firmly on the back burner but never forgotten.
The inspiration for her first novel came to her on a holiday to a Greek village. Her daughters had left home and suddenly the time had come to write that book!
Buy Link:
You can sign up for all the best Bookouture deals you'll love at: http://ow.ly/Fkiz30lnzdo