One pot rice and pasta dishes are my favourite meals to make, and I eat them about 4 times a week! So quick and easy to throw together.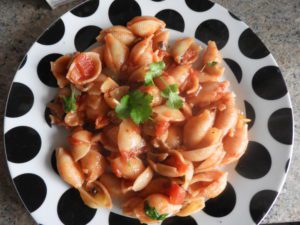 This spicy tomato and mushrooom pasta is all made in one pan so less washing up. The spiciness is determined by the chilli and can be adapted to suit your own personal taste or substituted for apepper if making for children. This could also be made with rice if preferred, just adjust the cooking time by simmering for a little longer.
Ingredients (serves 3-4, depending on appetite 😀 )
1 onion
1 green chilli
10 mushrooms
400g can of chopped tomatoes
300g pasta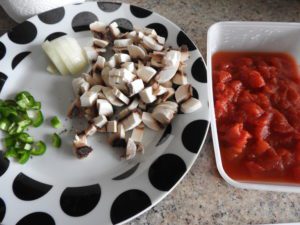 Instructions
Finely chop and then fry the onion, chilli and mushroom for 5 minutes.

Add the chopped tomatoes and pasta. Fill the empty tomatoes can with water and add to the pan (you can use boiling water but be careful as metal conducts heat!)
Bring to the boil. and simmer for 5 minutes.
Turn off the heat but leave on the hob so the sauce can thicken and the pasta finish cooking.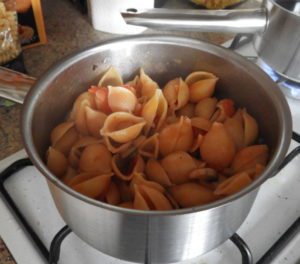 Serve and enjoy. I am obsessed with coriander at the moment so use it to garnish ALL my food 😀
For another one pot dish, see my carrot and coriander rice (yes, coriander again!)