I have mixed feelings about a roast dinner. I like the tradition and am the first to admit that my roast potatoes are superb 😀 But vegetarian and now vegan options have always been a little disappointing. But now I have discovered that tofu roasts nicely, creating a chewy middle and crispy surface.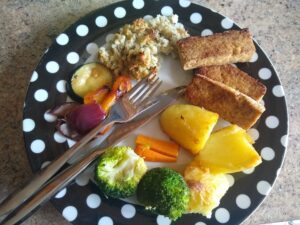 The brilliant thing about tofu is that it absorbs flavour. So I use garlic granules, onion granules and cayenne to make a tasty and slightly hot flavour. However, you could go for a Chinese or Indian spice mix or just use plain old salt and pepper. Really simple but super tasty and it works well with the rest of a roast dinner.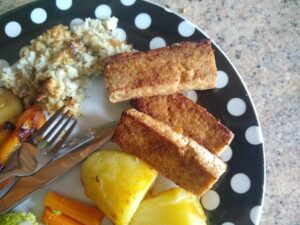 Ingredients
1 pack tofu
1 teaspoon each of garlic granules, onion granules and cayenne
2-3 tablespoons vegetable oil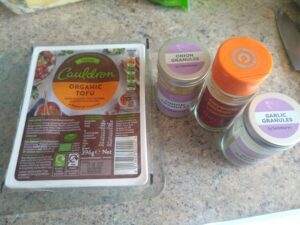 Instructions
Preheat oven to 210 / GM 7
Open and drain the tofu. Press to remove moisture if required (depends on the brand)
Cut the tofu into 1cm thick slices and place in an ovenproof dish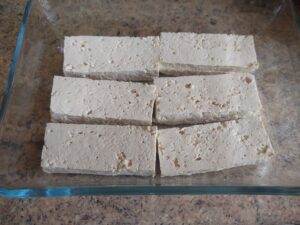 Coat the tofu in the oil then sprinkle on the seasoning, turning the tofu over to coat both sides.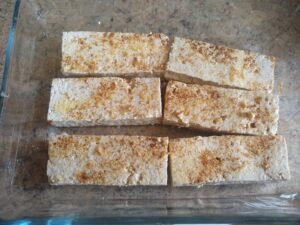 Roast in the oven for 45 minutes to an hour depending to how chewy you like it. Turn the tofu over halfway through cooking.
For a softer fried tofu dish, take a look at my chickpea and spinach curry with tofu. Or for a dessert, I've made tofu mocha mousse.