It's been another busy month and I have enjoyed discovering new vegan products.
April has been dominated by two main events: Zach's birthday and Easter, yay!
As Zach's mum, I wanted a treat for myself to celebrate my amazing child producing ability so we went to Bella Italia in Windsor: yum!
Moving on to Easter and here are the eggs I treated myself to. Chocolate is one of the things that has been easiest to give up so these are lasting me ages as I only have a little at a time.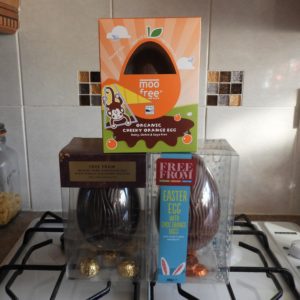 The final day of the Easter holidays and we had a vegan roast dinner, using Linda MacCartney's beef roast with red wine and shallot gaze. We had to have potatoes in 3 different ways to satisfy the demands of three unreasonable children. My first attempt at a cheese sauce was ok and I used nutritional yeast for the first time.
Pudding was apple crumble (delighted to discover that Stork block is vegan so my

usual recipe

was actually vegan anyway!) with vegan squirty cream.
My favourite new food products that I have found this month are a chilli from the frozen section in Aldi. It seves 2 and has a deep smoky flavour which I liked but Chris didn't. Bird's Eye have brought out some new vegan options for their Green Cuisine range and I tried out these sausages which tasted fab but the packet only held 6 🙁
Slightly out of season but I have been crazy about soup this month! I had a go at making my own, cheating a little by using prepared veg. So quick, easy and tasty. For something even quicker, supermarkets have a fab range available.
Another two meals out I simply have to mention as they were truly amazing: Slug and Lettuce in Portsmouth and Mimosa in Camberley.
The menu for Slug and Lettuce was available online, making it easy for me to plan ahead. The chilli was delicious and I enjoyed the different flavours and textures.

Mimosa is a buffet style restaurant with many different Asian flavours. I was slightly concerned due to the issues I'd had with Harvester who claimed they couldn't label their salad bar. However, Mimosa couldn't be better. Each dish was clearly labelled with allergens and vegan options were easy to spot.

On the non food front, I have been to a vegan festival in Portsmouth. Like the Brighton one I attended last month, I found it very inspirational and it was lovely to chat with the stall holders and discover new products. I also picked up lots of ideas for becoming more eco friendly by making sustainable choices.
Last but not least, I was sent some vegan scented candles from Newshome Candles. I had not really given much consideration to the wax used in candles and how this exploits bees. However, I love candles especially giving them as gifts so I am pleased that there is a vegan alternative. Each small candle lasts for an incredible 18 hours. They are organic and use essential oils to give them their scent.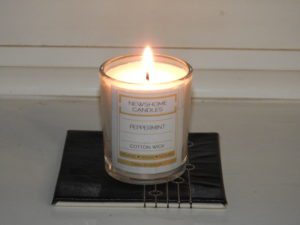 Need a recap on my vegan finds? See how I got on in February and March 🙂