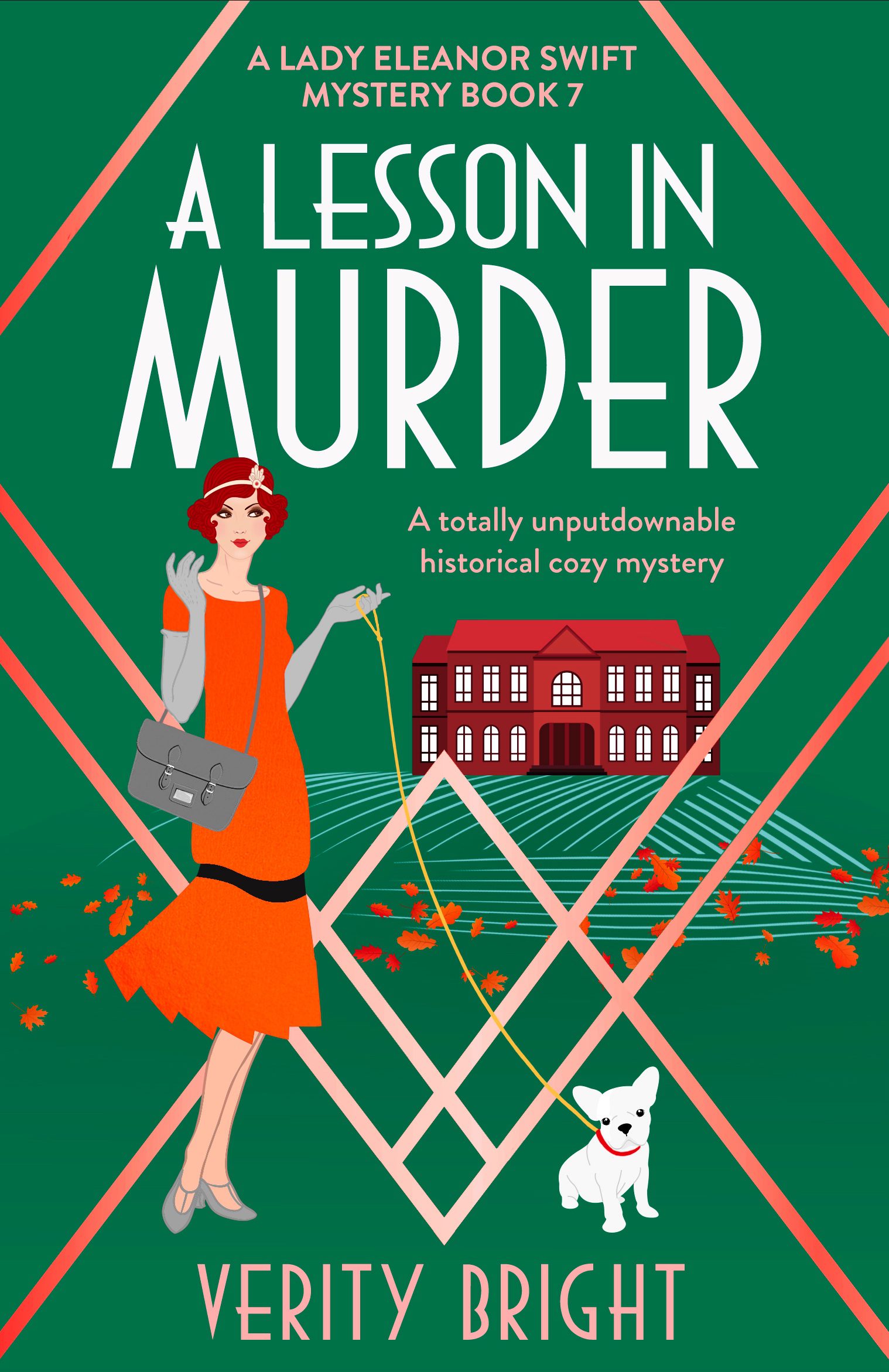 Lady Eleanor Swift is invited to her former school to give a speech to the current cohort of boarders. However just as she takes centre stage, speech day is cancelled with the announcement of an accident. Her favourite teacher, now the librarian, has been murdered but who could possibly have wanted to harm the elderly woman? Ellie is determined to find out…
A Lesson In Murder is the seventh book in Verity Bright's Lady Eleanor Swift series. It can be read as a stand alone book but I would recommend you read them all as the characters are so entertaining!
Ellie is not your typical lady of the manor. She is assisted by her stoic, practical and often exasperated but always unflappable butler Clifford alongside bulldog Gladstone. There is a romantic side to Ellie shown through her antagonistic relationship with police officer Hugh Seldon.
I enjoyed Ellie's reminiscences about her escapades as a child which prepare her for going undercover at the school. She is given charge of one of the houses whose boarders are notorious for their behaviour but Ellie is up to the challenge. She investigates her former teacher's murder with the permission of Hugh unlike in previous books so they have more positive interactions than usual.
The writing style is light hearted and the main characters are wonderful. Ellie continues to defy convention and the dynamic with Clifford remains strong, underpinning the plot.

A Lesson In Murder book description:
When Lady Swift is invited to her old school, she walks through familiar classrooms, finds her favourite books in the library… and surely that's not a body? Time for a lesson in murder!
Autumn, 1921. Lady Eleanor Swift is invited to her old school, St Mary's, as a guest speaker. Her favourite teacher, Mrs Wadsworth, has asked that Eleanor talk about her intrepid travels around the globe – travelling the Silk Road by bicycle, crossing the Himalayas and even befriending the Maharaja of India. But in the circumstances, perhaps it would have been a good idea to talk about her career as a daring detective…
Because no sooner has Eleanor brushed up on her times tables then she is greeted by terrible news: Mrs Wadsworth has been murdered. Eleanor is utterly devastated but she owes it to her dearest teacher to find out who killed her and why. So, alongside Gladstone the bulldog, it's best paw forward to track down a villain.
But when the art teacher is also found dead, Eleanor is sure someone is trying to do away with the people who taught her everything. As Eleanor delves into possible motives, she discovers a clue in the most unlikely place: her mother's old school diary. Does the route to the murderer lie within a secret passageway her mother uncovered? Can Eleanor nail the culprit in time or is the killer coming for her next?
A totally gripping and glamorous 1920s cozy! Fans of Agatha Christie, T.E. Kinsey and Rhys Bowen are in for a treat.
Author Bio:
Verity Bright is the pseudonym for a husband-and-wife writing partnership that has spanned a quarter of a century. Starting out writing high-end travel articles and books, they published everything from self-improvement to humour, before embarking on their first historical mystery. They are the authors of the fabulous Lady Eleanor Swift Mystery series, set in the 1920s.
Buy Link: