Detective Josie Quinn is preparing for her wedding when she becomes aware of a commotion nearby. On the steps of the church where she is about to pledge her vows, a girl's body has been posed. Josie recognises the girl as someone she met a few months earlier and she discovers more death at the girl's home. Can Josie find the girl's sister and will Josie and Noah make it up the aisle?
Hush Little Girl is a tense police thriller. It is the eleventh book in Lisa Regan's Josie Quinn series. Each book could be read in isolation as there are no spoilers about cases in the previous books. However, the character development and the relationship between Josie and Noah may benefit from being read in order.
Josie is a great character and has been through so much in the previous books that I had a happy smile at her imminent wedding and the hope of a happy ever after. She has an incredible inner strength and Noah is both lucky and brave to take her on! The professional politics between them is dealt with delicately as their personal lives threaten to take over.
The personal touch to the plot in the form of the wedding, as well as Josie's knowledge of the victims, adds to the tension. Events occur at a fast pace and there are some very dramatic occurences which are devastating for the characters and shocking for us as readers.
I also want to point out the sympathetic treatment of mental health issues, in particular OCD. I have personal knowledge of this condition and thought it was handled accurately and sensitively.
Hush Little Girl is a very enjoyable thriller which has plenty of drama, action and tension.
Title:         Hush Little Girl
Author:     Lisa Regan
Publication Day: April 14th 2021
Buy Links :
Description:
Dressed in pajamas covered with stars, the little girl's body is perfectly still, her arms folded neatly over her chest. The wildflowers decorating her hair scatter across the grass in the sharp breeze. Her lips are parted slightly, as if to whisper goodnight for the very last time…
When twelve-year-old Holly Mitchell's fragile little body is found on the steps of a mountainside church in the small town of Denton, a doll made from pine cones clasped tightly to her chest, Detective Josie Quinn rushes to attend the scene. She knows this little girl's angelic face, her mother had offered Josie help when she'd needed it most.
Searching the girl's house, Josie is devastated to find that Holly's mother is dead too, and her little sister is missing. But why has this family home been stripped of all sharp objects? Re-tracing her steps, Josie finally finds a secret hiding place with Holly's sister inside, terrified, but alive. Moments later, another doll made of twigs turns up.
Certain the killer is close by, Josie holds the little girl tight and tries to coax answers from her, but it's clear the pile of burnt photographs and letters found in the greenhouse is her only lead. No one is safe until Josie can figure out the dangerous secret that has escaped this remote family home.
Just when Josie is finally closing in on the killer, the unthinkable happens, a tragedy that shakes her to her very core. And on the windshield of her car: a third wooden doll. Could stopping this twisted monster from taking more innocent lives come at the ultimate price for Josie?
An absolutely gripping rollercoaster ride of a crime thriller from an Amazon, USA Today and Wall Street Journal bestselling author. Perfect for fans of Angela Marsons, Robert Dugoni and Rachel Caine.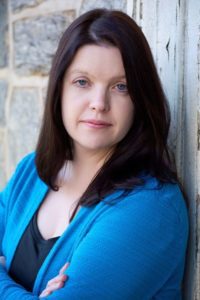 Author Bio:
Lisa Regan is a USA Today, Wall Street Journal bestselling author and Amazon bestselling crime novelist.  She has a bachelor's degree in English and Master of Education Degree from Bloomsburg University.  She is a member of Sisters In Crime, Mystery Writers of America and International Thriller Writers. She lives in Philadelphia with her husband and daughter. Find out more at her website: www.lisaregan.com
Author Social Media Links: