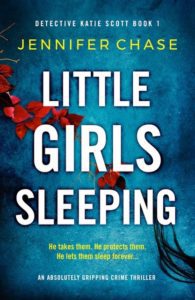 Katie Scott leaves the army and returns home. Her uncle arranges for her to join his police department and she is soon upsetting the locals with her drive and determination which makes them feel inadequate.
She struggles to adapt to civilian life. I was surprised that she is so used to taking orders during her army days but frequently goes off on her own to investigate, therefore breaking the rules and disobeying her superiors.
We have a little insight into the mind of the killer as some chapters show his perspective and psychological state. There are red herrings to misdirect the reader into suspecting particular characters.
Katie is a wonderful character and lead for a new series. She is strong and passionate but also caring and deeply affected by her time in the army. She is ably supported in her investigations by her army dog Cisco and I look forward to seeing how her relationship with her ex Chad develops later in the series.
I was a little disappointed by the ending because I wanted to know more detail about the killer's motivation. I felt that this book was an excellent way of introducing Katie to the world but that the crimes were secondary so didn't quite get the coverage they should have done.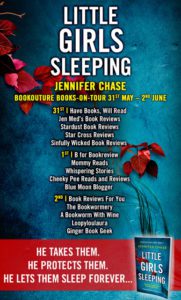 Little Girls Sleeping: An absolutely gripping crime thriller (Detective Katie Scott Book 1)
He looked down at the little girl, sleeping peacefully, her arms wrapped around a teddy bear. He knew he was the only one who could save her. He could let her sleep forever.
An eight-year-old girl, Chelsea Compton, is missing in Pine Valley, California and for Detective Katie Scott it's a cruel reminder of the friend who disappeared from summer camp twenty years ago. Unable to shake the memories, Katie vows she won't rest until she discovers what happened to Chelsea.
But as Katie starts to investigate, accompanied by her loyal ex-military dog, Cisco, the case reveals itself to be much bigger and more shocking than she feared. Hidden deep in the forest she unearths a makeshift cemetery: a row of graves, each with a brightly coloured teddy bear.
Katie links the graves to a stack of missing-persons cases involving young girls—finding a pattern no one else has managed to see. Someone in Pine Valley has been taking the town's daughters for years, and Katie is the only one who can stop them.
And then another little girl goes missing, snatched from the park near her home.
Katie's still haunted by the friend she failed to protect, and she'll do anything to stop the killer striking again—but can she find the little girl before it's too late?
Compulsive and gripping crime fiction for fans of Lisa Regan, Rachel Caine and Melinda Leigh. Katie Scott's first case will have you on the edge of your seat and gasping with shock.

About the author: 
Jennifer Chase is a multi award-winning and best-selling crime fiction author, as well as a consulting criminologist. Jennifer holds a bachelor degree in police forensics and a master's degree in criminology & criminal justice. These academic pursuits developed out of her curiosity about the criminal mind as well as from her own experience with a violent psychopath, providing Jennifer with deep personal investment in every story she tells. In addition, she holds certifications in serial crime and criminal profiling. She is an affiliate member of the International Association of Forensic Criminologists, and member of the International Thriller Writers.
Jennifer Chase was born and raised in California and still lives there with her husband, dogs and cats. In addition to writing and consulting, Jennifer enjoys spending time outdoors, both at the beach and hiking, and engaging in some amateur photography.