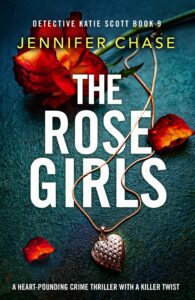 Detectives Katie Scott and Scott McGaven are taking a shortcut home when their car has a minor accident. They are forced to stay in the small town of Coldwater Creek overnight but when they prepare to leave in the morning, the local chief begs them for help with a body: the first murder ever in the town but not the last…
The Rose Girls is the 9th book in the Katie Scott series. However, it would work as a standalone as there are no spoilers about previous cases, although obviously Katie's personal life has developed over the series.
A teenager has been killed and posed. The chief asks for help and offers as much assistance as the detectives could want. But something doesn't feel right and Katie suspects that the chief and the other locals are keeping secrets which are hindering the investigation.
Katie feels quite emotional due to being away from home and the youth of the victim. She remains focussed and determined to find justice. The descriptons of the bodies are quite grisly and there is autopsy detail included in the plot. These feed into Katie's revulsion at the crime and make us want her to succeed.
Katie is frequently in danger and facing dramatic physical situations. She is pushed in a river, shot at, trapped in a building, and falls down an embankment. She nearly gives up several times but has the ample support of her partner McGaven, her lover Chad, her military dog Cisco and the rest of the police team.
The Rose Girls is an enjoyable detective thriller.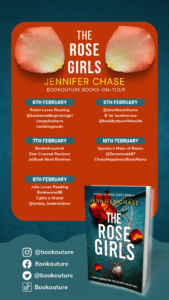 Book Description:
Like a precious doll, the girl leans against the towering pine tree with her long bare legs stretched out and her hands folded neatly in her lap. Her head tilts towards the sky, but this innocent child will never feel the warm glow of morning sun again; her fragile little body is cold, her tender heart is still.
When Detective Katie Scott receives a plea from neighboring Coldwater Creek to help with a tragic murder, she doesn't hesitate. Fifteen-year-old Ivy Miller's naked body was found tied to a tree, a freshly inked pink rose tattoo on her arm. The word "MORE" carved into her back means sweet Ivy could be the first of many…
Katie's heart aches for the young girl whose life ended before it had even begun. But she has her work cut out with the inexperienced police department fumbling the case at every turn. There hasn't been a murder in this small town for as long as anyone can remember, but why will none of the locals cooperate? Katie's only lead is a blurry photograph of Ivy's long-missing mother found in Ivy's bedroom. If she can find out where it was taken, Katie knows she'll have the first clue in a mystery that has been haunting Coldwater Creek for years.
But Katie's world crashes down when Ivy's two best friends are found murdered in the same woods days later. Inked with the same pretty flower, the rose girls were keeping a deadly secret. Katie will never forgive herself for not making the connection in time. As mothers cling to their daughters, terrified to let them out of their sight, Katie's search leads her to an abandoned building deep in the forest where the last photo of Ivy's mother was taken. But will she survive long enough to stop more heart-shattering tragedies?
A totally nail-biting, keep-you-up-all-night crime thriller from a USA Today and Amazon bestselling author. Prepare to pick your jaw up from the floor at that final twist! Fans of Lisa Regan, Rachel Caine and Melinda Leigh will be absolutely gripped!

Author Bio:
Jennifer Chase is a multi award-winning and best-selling crime fiction author, as well as a consulting criminologist. Jennifer holds a bachelor degree in police forensics and a master's degree in criminology & criminal justice. These academic pursuits developed out of her curiosity about the criminal mind as well as from her own experience with a violent psychopath, providing Jennifer with deep personal investment in every story she tells.
In addition, she holds certifications in serial crime and criminal profiling. She is an affiliate member of the International Association of Forensic Criminologists, and member of the International Thriller Writers.
Sign up to be the first to hear about new releases from Jennifer Chase here: https://geni.us/B097H5XLDVsocial
Buy Link:
You can sign up for all the best Bookouture deals you'll love at: http://ow.ly/Fkiz30lnzdo