Katie Scott is summoned to a fire. It looks like arson and among the debris three small bones poke out of the basement floor. A finger… Searches of the property find more bodies, possibly a whole family. Was the fire set to cover up the deaths or reveal them?
Three Small Bones is the 8th book in the Katie Scott series about a detective who used to be in the army and has retired alongside her beloved army dog Cisco.
A deliberate fire but the motive is unclear. Katie faces a hugely emotional case as it seems that an entire family may have been killed and buried at the property. This brings flashbacks to some traumatic war experiences for Katie. The investigation commences which leads to a little tension as Katie and her fire chief boyfriend are both involved. Then members of Katie's team are killed and the anticipation and drama ramps up.
The plot develops at a fast pace as the bodies pile up. Katie doesn't get a chance to rest especially as the cold case becomes a live one as her colleagues are killed. There is forensic detail about the bodies and crime scenes which some readers may find a little grisly. However, it is appropriate to the genre and underpins the plot developments and investigation.
Three Small Bones is a tense and entertaining detective and crime thriller.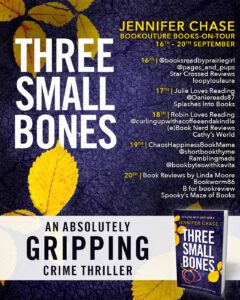 Book Description:
Smoke curls from what's left of the beautiful family home on the edge of the woods. The heat is unbearable as she descends the stairs to the basement, past a set of bicycles––two big, one small. That's when she sees three little white bones in the cracked earth at her feet, turning her blood to ice…
When firefighters tackling a blazing house in a quiet suburb of Pine Valley, California discover human remains, Detective Katie Scott races to 717 Maple Street. She calls a halt to the excavations the moment she sees the full number and size of the bones; someone has buried a whole family down here.
Working night and day, it's up to Katie to prove her theory that the fire was no accident, that someone wanted to expose the secret in the basement. Tiny traces of explosives residue found at the scene is all the proof she needs. But the Cross family have been missing for months––leaving friends and loved ones in agonizing pain––what twisted soul would do this now? And why?
The case takes another heart-shattering turn when Katie's suspicions over recent renovation work on the house leads to the discovery of more bodies in the back yard: two little girls, buried years apart. What other devastating secrets are hidden in this perfect family home? It's a dead end at every turn as Katie tracks down anyone who knew the family. Just when it looks like all hope is lost, reports of the Cross's landlord harassing the family before they went missing gives Katie a crucial lead. With a menacing grey sedan following her every move, how many more innocent lives will be lost before Katie can dig up the truth?
An absolutely gripping and totally addictive thriller from a USA Today and Amazon bestselling author. It will keep you racing through the pages all night long––fans of Lisa Regan, Rachel Caine and Melinda Leigh will devour in one sitting!
Author Bio:
Jennifer Chase is a multi award-winning and best-selling crime fiction author, as well as a consulting criminologist. Jennifer holds a bachelor degree in police forensics and a master's degree in criminology & criminal justice. These academic pursuits developed out of her curiosity about the criminal mind as well as from her own experience with a violent psychopath, providing Jennifer with deep personal investment in every story she tells.
In addition, she holds certifications in serial crime and criminal profiling. She is an affiliate member of the International Association of Forensic Criminologists, and member of the International Thriller Writers.
Sign up to be the first to hear about new releases from Jennifer Chase here: https://geni.us/B097H5XLDVsocial
Buy Link:
You can sign up for all the best Bookouture deals you'll love at: http://ow.ly/Fkiz30lnzdo