Alys finds herself with an adult daughter and a selfish husband who makes her redundant from her job. She feels like life has passed her by. Her daughter in on the brink of a new career as a chef and Esme's dreams make Alys regretful that she achieved none of her own.
But then Alys meets the restaurant owner's husband Sam and it is her first husband who almost died in a car crash over 20 years ago. He didn't want Alys to live with an invalid so left her in the hope that she would chase her dreams. Can she follow her heart now…?
The Wife's Choice was completely compelling. I was so caught up in Alys' story and was anxious for her to have a happy ending. I always say it is the sign of a good book when it makes you feel strongly towards a character. I was incredibly angry with Hugh's behaviour, the continual put downs, destroying her confidence, and later, the outright lies.
The characters are all realistic and Alys' vulnerability is endearing although I also wanted to shout at her to stand up for herself! I could understand the choices that the characters made, whether through love, jealousy or fear
The Wife's Choice is filled with sadness and regret yet it is also uplifting as Alys rediscovers her passions and dreams. I think the message of this book is loud and clear: don't sacrifice your happiness out of fear or loyalty, and always be true to yourself. I will definitely try!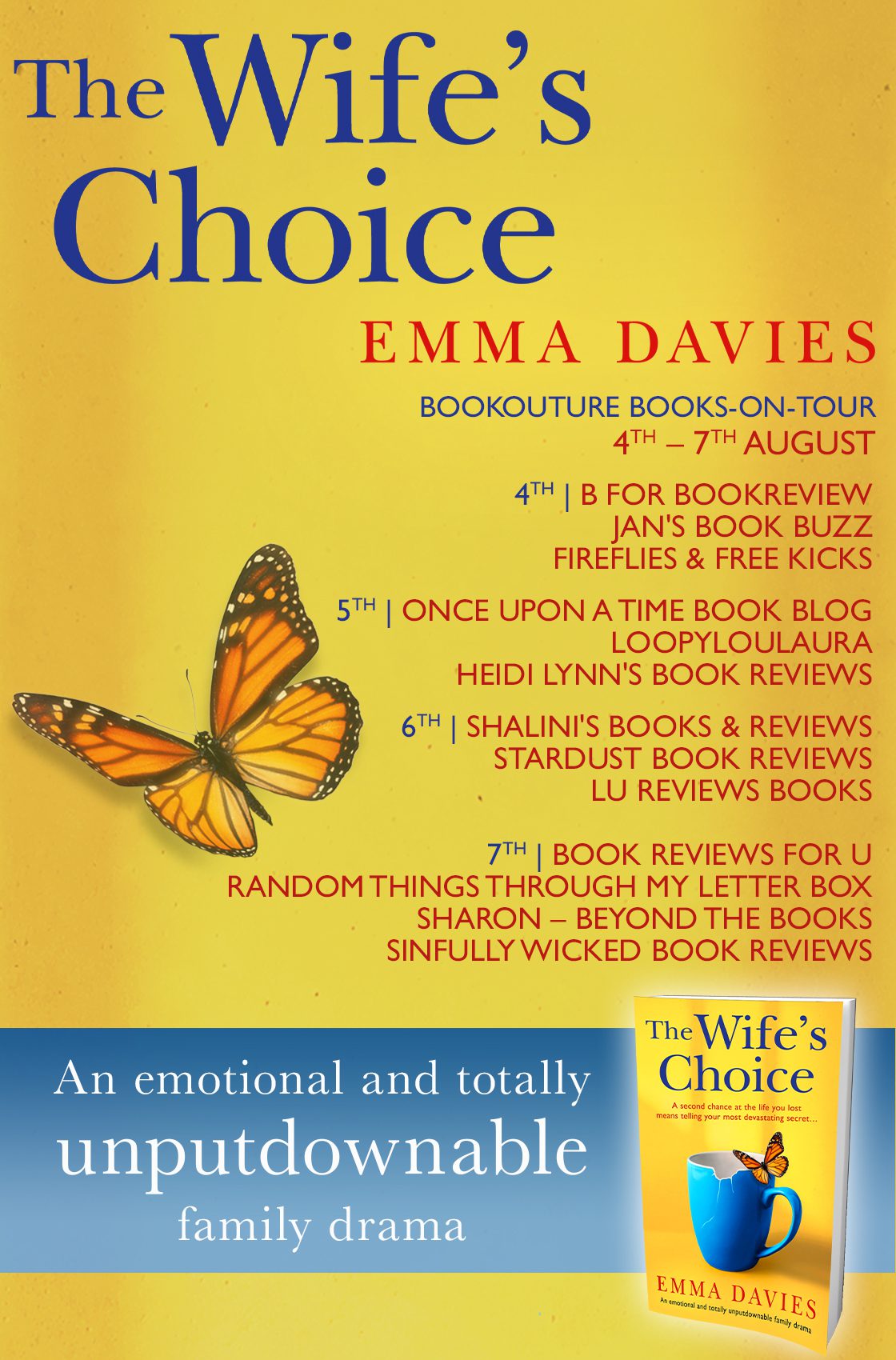 Emma Davies Media Kit:
Title:  The Wife's Choice
Publication Day: August 4th 2020
Author:   Emma Davies
Buy  Links:
Description:
Tell your most devastating secret, or risk losing your only daughter…
Then: Twenty years ago, Alys' husband, Sam, was in a terrible car accident that left him fighting for his life. His recovery was slow and painful and, just at the point when Alys began to hope, he sent her away, refusing to see her ever again for reasons she could never understand.
Now: Married again and living in a new town with a new family, Alys feels like she's sleepwalking through life. She's just lost her job, her grown-up daughter is flying the nest, and her new husband doesn't see – or even seem to care about – the downward spiral she is in.
But a chance encounter changes everything. As the life she could have had crashes into the one she settled for, Alys must decide whether or not to reveal the lie she's been telling everyone all these years. Will it tear apart the ones she loves, or could it set them free?
The Wife's Choice is an emotional, page-turning family drama about the difficult choices and sacrifices we make to protect the ones we love. Perfect for fans of Amanda Prowse, Kerry Fisher and Jodi Picoult.

Author Bio:
After a varied career, Emma Davies once worked for a design studio where she was asked to provide a fun and humorous (and not necessarily true) anecdote for their website. She wrote the following: 'I am a bestselling novelist currently masquerading as a thirty something mother of three.' Well the job in the design studio didn't work out but she's now a forty something mother of three and is happy to report the rest of her dream came true.
After many years as a finance manager she now writes full time and is far happier playing with words than numbers. She lives with her husband, three children, and two guinea pigs in rural Shropshire where she writes in all the gaps in between real life. It's a county she adores, her love of its beautiful people and landscapes providing endless inspiration for her books, and in fact the only thing that would make Shropshire more idyllic is if it were by the sea.
Author Social Media Links:
Pop over to her website www.emmadaviesauthor.com where, amongst other things, you can read about her passion for Pringles and singing loudly in the car. You can also wave to her on twitter @EmDaviesAuthor / https://twitter.com/EmDaviesAuthor or find her on Facebook (a little too often than is good for her): https://www.facebook.com/emmadaviesauthor/