Liv, Grace and Sophie were inseparable as teens. But a tragic train crash killed one and the other two rejected each other in their grief. Now Liv is on holiday in Mexico when she spots a familiar tattoo…
The Woman on the Beach has drama, mystery and a whole heap of emotional upheaval.
The pace of the book moves quite quickly and developments occur thick and fast. There is plenty of mystery as we unpick the plot strands. The book is written in a non linear way at first to show the past interspersed with present events. There are some big emotional issues involved in the plot including miscarriage and grief. Mental health and domestic abuse also form part of the narrative.
I don't want to give away too much of the plot but the book is written from the first person narrative perspective of two of the friends in the present day and in the past. This allows us to see both viewpoints and understand their emotions and actions. We are misdirected by the characters due to their own skewed opinions.
The Woman on the Beach is an entertaining and emotional book about friendship, love and grief. I have previously reviewed My Mother's Secret, Little Girl Missing, 

What He Did
,

and Why She Died by Julia Roberts.

The Woman on the Beach book description:
I was so sure I saw Sophie on the beach that day. But it couldn't be her. Sophie's dead…
Ever since we swore to be best friends at school, Sophie was there for me. When she married my brother, she became family. We shared everything.
At least I thought we did.
After she died, I was devastated. Everyone else has moved on, but I can't. She was so quiet, those last few months. I'm sure there is something I don't know…
Now I'm standing on the beach we visited when we were younger, and there's a woman with long blond hair a few metres away, playing with a dog in the sunshine. She turns, and I see Sophie.
Heart racing, I run after her, but before I can reach her she's vanished, leaving only footprints in the sand.
It can't be Sophie… Can it? And do I want to know, if the answer will destroy everything?
A gripping emotional page-turner about the ways we lie to ourselves and how love and hope can heal us. Fans of Amanda Prowse, Liane Moriarty and Susan Lewis will absolutely love The Woman on the Beach.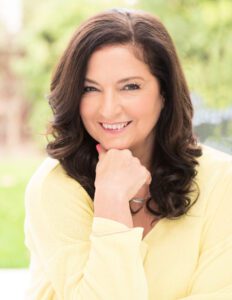 Author Bio:
Julia was born in West Bridgford, Nottinghamshire, and began her career as a professional singer/dancer. This enabled her to travel the world in her late teens storing up experiences she has since included in her writing.
Following roles as a hostess on The Price is Right and a member of the Beadle's About 'hit squad' in the 1980s, she became a TV Presenter and filmed features for Sky Sports before launching the QVC shopping channel in 1993 where she still presents today. Having always wanted to write, she penned her first book, a memoir sold on QVC, in 2013 and has since written seven full length novels, two novellas and several short stories.
Buy Links: