Errr… wasn't it just a couple of days ago that March finished? Seriously, now April is over too?
Family: And speaking of time rushing by, my baby has somehow turned 4! We also heard from the local council that Anya and Zach have got into our chosen schools for September.

Work: not much before the Easter holidays but it has been busy since then! I had 3 virtual work meetings last week and it is very tricky to fid time to work around the kids…
Days out: we started the month staying indoors completely as my asthma played up for the first time in 20 years which was a bit scary. Halfway through the month we felt confident enough to leave the house and are very lucky that there are fields and a river just at the end of our road.

We also spotted my parents out for their daily walk while I took Matt and Annie out on their bikes in the big field.

Travelling in the opposite direction along the river takes us to a pond and we have been lucky enough to watch the rapid growth of ducklings from newly hatched to huge! We also joined in with the Scouts activity of #HikeToTheMoon for charity.

We also camped in the garden one night, brrrr it was cold but the kids slept like babies and didn't notice! I think we will do more camping in our garden in the summer months as we are unlikely to go away on holiday
Reviews: lots of fun toys for the kids to enjoy over the Easter holidays, we even had our own non-chocolate egg hunt with a range of Zuru surprise eggs.

One of Zach's favourite toys is Kinetic Sand and he had some for his birthday as well as this rainbow set.

Matthew is majorly back into dinosaurs, possibly inspired by his new Meccano dino set. We also discovered Bakugan and he was excited to spot dino themed characters.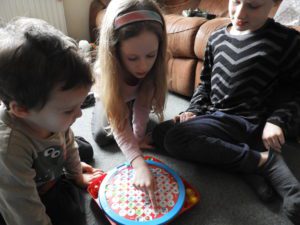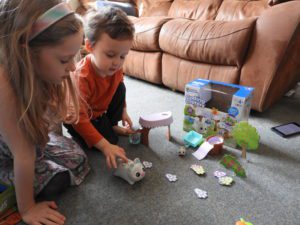 Food: I finally got around to publishing my

microwave bread recipe

and made some yummy vegan cakes (one coffee and one lemon)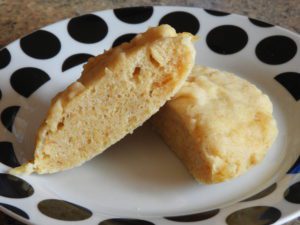 Books: I managed to read loads!