So there it is, half the year gone and six months as a vegan completed!
We have been out and about several times last month and have eaten out at some fab places. Fathers Day we tried out Ask Italian in Winchester and the food was superb. I can't wait to go back!

We returned to Miami Burger in Reading and ate a vegan meal there ahead of our trip to see Wallace and Gromit's Musical Marvels. We didn't tell the children it was vegan and they couldn't believe it when we told them!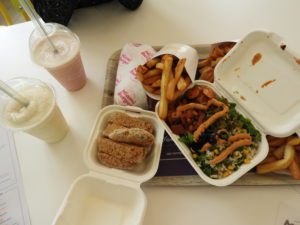 We also hosted a barbecue and I have discovered salads! Not normally a fan but I made a chickpea salad, 2 potato salads and 3 pasta salads. My recipe for Mexican inspired pasta salad was enjoyed at Matthew's sports day. The other pasta salad using French dressing and vegan mayo was great for a quick packed lunch to take to work.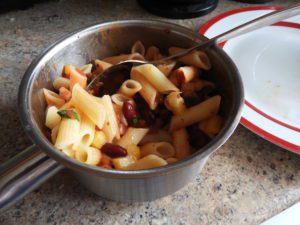 I've been hectic with work so quick meals have been a lifesaver. After the success of sushi last month I bought a bigger selection and it was fab. I also tried the new naan bread from Tesco and rated it pretty much the same as the Sainsburys version.

I have enjoyed the gluten free pasta that was included in my Blog On goody bag and it was sooooo good with various homemade sauces  (a sausage stew in one and meatballs in the other)

I'm not sure if I'd mentioned these Sainsburys cheese and onion bakes earleir in the year but they are so good! Almost difficult to believe they are vegan! Here I had the bake with a creamy pasta sauce using a spoonful of vegan soft cheese: yum!

Sweet treat time! Gu have 2 new vegan gluten free puds and whilst I enjoyed both, the rhurbarb cheesecake is simply excellent.
After the success of making mousse with aquafaba, I tried it our as a meringue and am happy to report that it was delicious! The bad news is the kids loved it too so now I need to share 🙁 🙂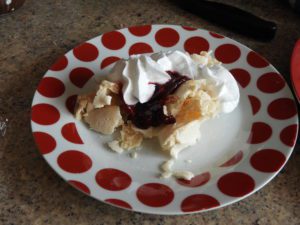 I won't lie: the last 6 months have not been plain sailing and there have been moments of actual despair and doubt. The loss of cheese has been significant and tricky to deal with so I am still looking for alternatives or making meals without it being required.
I am determined to continue my vegan journey and I hope you will continue to support me and try out my recipes if you fancy!