Lady Eleanor Swift visits Henley Regatta with her friend Tipsy who is determined to find Ellie and herself a husband. Ellie is still enchanted by detective Hugh Seldon but their rocky relationship is under pressure, especially when the head of royal police calls on Ellie not Hugh to investigate the murder of a minor royal…
A Royal Murder is the 9th book to feature intrepid Lady Eleanor Swift and her indefatigable butler Clifford.
We are straight into the actions and main character plotlines. Eleanor and Tipsy are at the regatta and Tipsy is trying to find them both a husband, the richer the better. A royal steps up to give a speech, swigs his champagne and collapses. Ellie is asked by the royal police to investigate the murder and find a whole host of motives and suspects. This puts her at odds with her beau Hugh who is not welcomed into the investigation by the royal police.
There are plenty of red herrings as Ellie explore the potential culprits. She is ably assisted by her butler Clifford who is as resourceful as ever. Their unconventional friendship is the real highlight of this whole series for me. I particularly enjoy their dialogue together throughout all the books.
I liked the addition of Ellie's friend which reinforces the gender stereotypes of the era, and the royal status of the victim which shows the class system. Eleanor provides a delightful contrast to the social norms described in the book. She subverts and defies the expectations of society based on her status and sex.
A Royal Murder is an entertaining historical cosy murder mystery.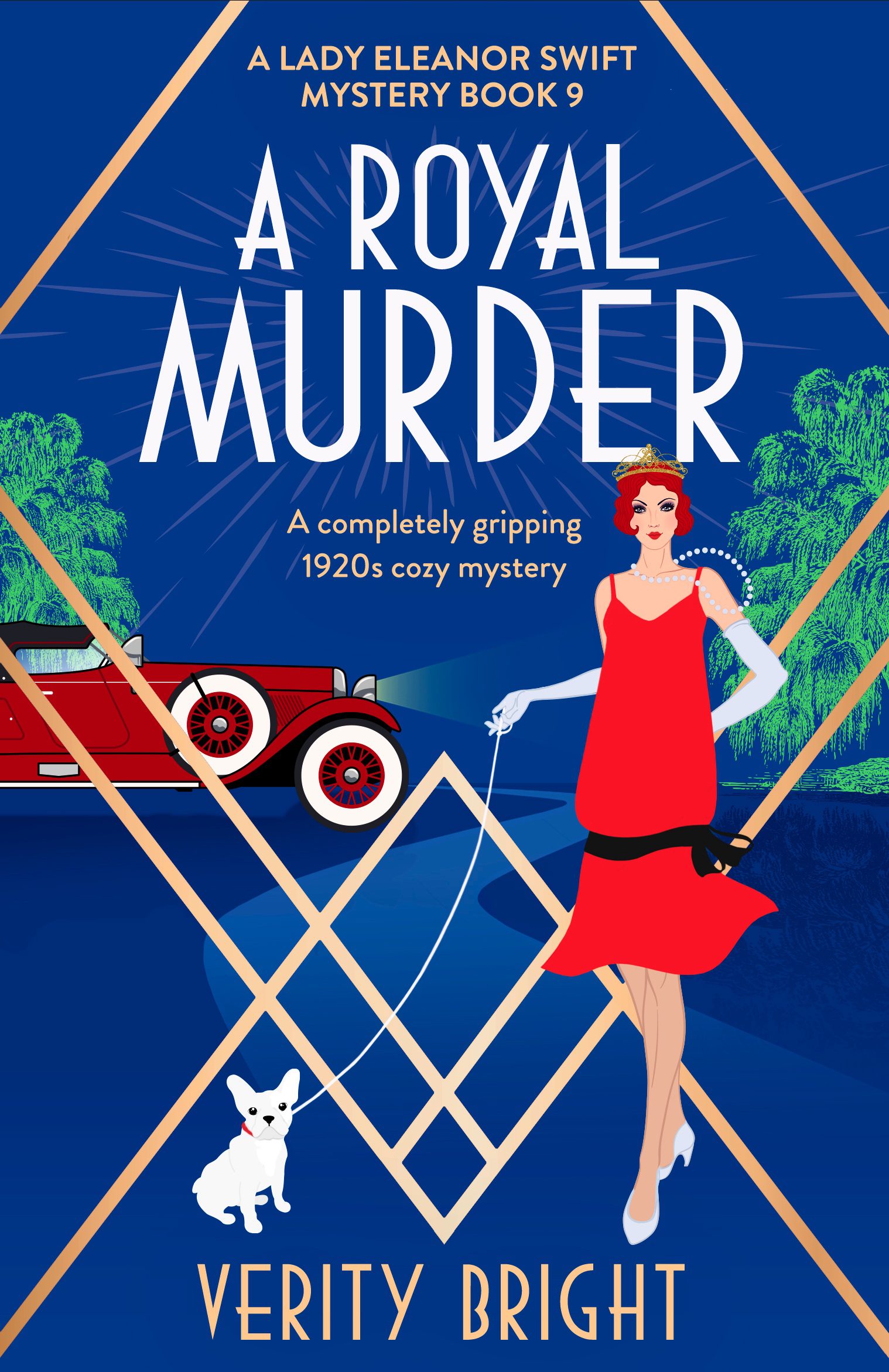 At the royal boat race there are beautiful barges, plenty of bunting, a handsome prince and… is that a body in the water? Lady Swift is on the case!
Spring, 1923. One-time adventurer and now amateur sleuth Lady Eleanor Swift is attending the annual royal regatta with her new pal Tipsy Fitzroy. Tipsy has Eleanor trussed up like a debutante in a new dress, determined to turn her into a proper society lady. Even Eleanor's favourite companion, Gladstone the bulldog, has a new outfit for the occasion.
But the sparkling prize-giving ceremony is interrupted when the devilishly handsome host gulps his glass of champagne on stage and collapses to the floor. The victim is none other than the king's cousin, Lord Xander Taylor-Howard. He was rumoured to be entangled in a rather dubious gambling ring, but did someone kill him instead of collecting his debt? Or was this simply an ill-timed tragic accident? Either way, a right royal scandal is afoot…
Sir Percival, the head of the royal police, asks Eleanor for her help investigating. He'd do anything to keep the story under wraps. She knows it will get her into hot water with a certain dapper Detective Seldon, but she's determined to see justice done. However, as she digs deeper, she learns Lord Taylor-Howard was hiding more than one murky secret. It isn't until she takes a closer look at the unfortunate royal's shattered champagne flute that she stumbles upon just the clue she needs. But can she reel in the killer before her ship is sunk too?
A warm and witty 1920s mystery that cozy fans will just adore. Addictive reading for fans of T E Kinsey, Lee Strauss and Agatha Christie.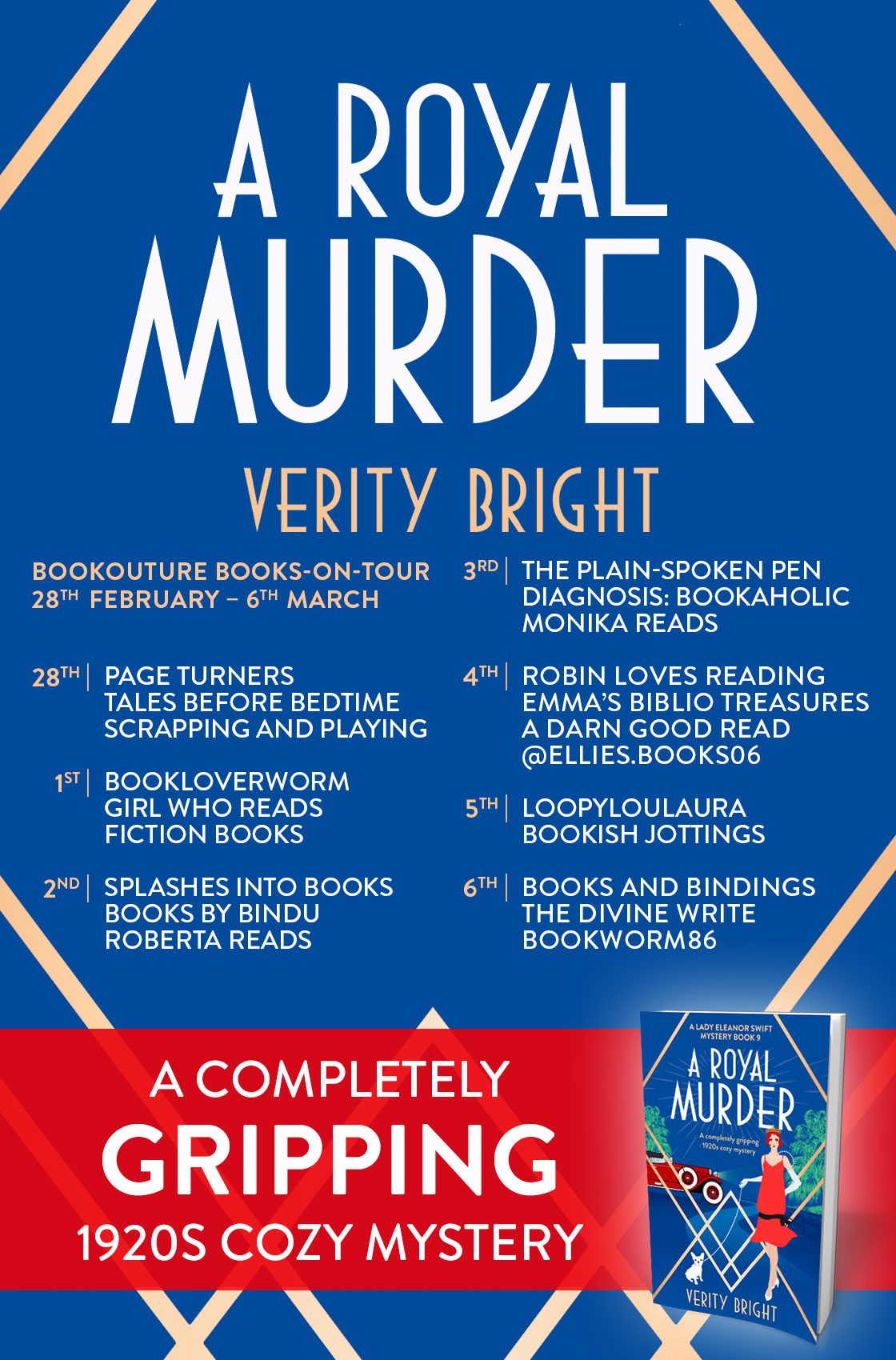 Author Bio:
Verity Bright is the pseudonym for a husband-and-wife writing partnership that has spanned a quarter of a century. Starting out writing high-end travel articles and books, they published everything from self-improvement to humour, before embarking on their first historical mystery. They are the authors of the fabulous Lady Eleanor Swift Mystery series, set in the 1920s.
Buy Link:
Audio:
Listen to a sample here: