Obituary writer and amateur sleuth Eve Mallow joins the locals in being an extra for a TV series that films in their village. But the filming ends in chaos when the director is found dead in the ancient church. The other cast and crew are the main suspects…
The village of Saxford St Peter is overrun with a TV crew and Eve in on hand as an extra but also providing cakes as part of her part time job in between obituary writing. When celebrated director Rufus Beaumont is found dead, Eve seizes the opportunity to write his obituary as well as hunt for his killer. Once again she calls upon former police detective Robin to undermine the ineffective officer in charge of the case.
The personal and professional relationships of the victim with other characters are examined by Eve as she gathers information for her obituary. This enables her to search for clues about the motive for the murder and therefore the person responsible.
There is little forensic information or violence despite the murder plot. As I have said previously about the other books in the series, the plot has a classical Sunday night TV drama feel to it due the traditional English village setting and array of background characters.
Mystery at the Church is an enjoyable cosy murder mystery to add to the series.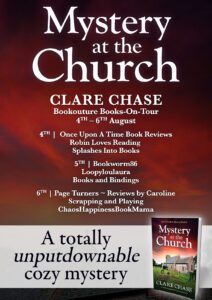 MEDIA PACK
Book: Mystery at the Church
Author: Clare Chase
Pub Day: August 4th 2021
Buy Link: 
About the Book: 
When a TV drama crew descends on sleepy Saxford St Peter, Eve Mallow joins the excited throng of extras in a funeral scene. But then a real body is found… and Eve gets a starring role as sleuth!
Eve Mallow is looking forward to her fifteen minutes of fame when Saxford St Peter is chosen as the location for a new drama series. A devoted people-watcher, Eve is thrilled to learn that TV stars are just as glamorous – and tempestuous – as she's always imagined.
But then someone delivers a bouquet of poisonous flowers to the director Rufus Beaumont, making Eve worry that some of the rivalries she's noticed are deadly serious. And when Rufus's body is found in the church where the funeral scene took place, it's clear that someone's out for the kill in real life.
Eve and dachshund Gus have been on the ground from the start. Now they're on the case, interrogating the suspects one by one. Is it the devastating diva whose relationship with Rufus was far from professional? The cameraman who caught Rufus doing something he shouldn't? Or the groupie groundskeeper who's in the background of every shot? One thing's for sure – Eve must catch the killer before she stars in their next murderous production…
A completely unputdownable page-turner, perfect for fans of Faith Martin, Agatha Christie and Betty Rowlands.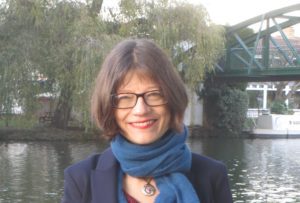 Author Bio
Clare Chase writes classic mysteries. Her aim is to take readers away from it all via some armchair sleuthing in atmospheric locations.
Her debut novel was shortlisted for Novelicious's Undiscovered Award, as well as an EPIC award post-publication, and was chosen as a Debut of the Month by LoveReading. Murder on the Marshes (Tara Thorpe 1) was shortlisted for an International Thriller Writers award.
Like her heroines, Clare is fascinated by people and what makes them tick. Before becoming a full-time writer, she worked in settings as diverse as Littlehey Prison and the University of Cambridge, in her home city. She's lived everywhere from the house of a lord to a slug-infested flat and finds the mid-terrace she currently occupies a good happy medium.
As well as writing, Clare loves family time, art and architecture, cooking, and of course, reading other people's books.
You can find Clare's website and blog at www.clarechase.com
Social Media