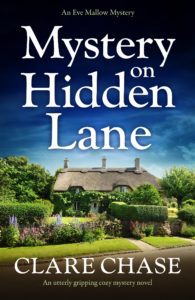 A gentle crime novel with a freelance journalist trying to write an obituary of an acclaimed cellist, only to find herself investigating a murder. This has the classical feel of an Agatha Christie or MC Beaton novel, or Midsomer Murders: a traditional English village murder mystery.
Eve and her dachshund Gus are warm and likeable lead characters. She has a natural inquisitiveness without coming across as nosy. Eve interacts with the villagers and makes friends easily. In the background we have her annoying ex Ian being patronising and a little controlling, whilst she has a loving relationship with her twins.
The plot itself is intricate with plenty of suspects and a second murder. The insular nature of the English village is clearly evoked to keep the action contained. The descriptions of the scenery make the setting very easy to imagine, making me long for summer!
Murder on Hidden Lane is much softer and gentler than Clare Chase's other books. There is no violence and the focus is very much on Eve's interviews for her obituary that just happen to form her own investigation into the cellists's death. I can easily imagine this as a Sunday night drama on TV. I really hope there are more in this series!
I have previously reviewed the third and fourth books in Clare Chase's Tara Thorpe series: Death Comes To Call, and Murder In The Fens.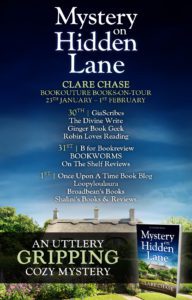 Media Kit:
Title:                  Mystery on Hidden Lane  
Author:     Clare Chase  
Publication Day:  30/01/2020
Description:    
Seasoned obituary writer Eve Mallow has a new assignment: to tell the life story of famed musician Bernard Fitzpatrick. A chance to spend a few days in the sweet little village of Saxford St Peter, walking the country lanes with her beloved dachshund Gus and meeting new people sounds like a dream. But it turns out that Bernard's life was much less interesting than his death. On the day she arrives, news breaks that the charismatic cellist was the victim of a grisly murder. Could this quaint English village be hiding a dark secret?
As Eve starts to interview Bernard's friends and colleagues, she finds that he'd ruffled a few feathers. In fact, from the keepers of the Cross Keys Inn to his own staff at High House, there's barely a person in town who doesn't have some reason to hate him… is one of the friendly villagers a cold-blooded killer?
Eve hoped Saxford St Peter would be the perfect escape from her busy city life. But there is darkness even in the most sunlit of settings. And when a second body is found, Eve becomes certain that one of the people she's met must be the murderer. She has never done any detective work before… but is there something in her notes that can crack the case?
An unputdownable page-turner, perfect for fans of Faith Martin, Agatha Christie and Betty Rowlands.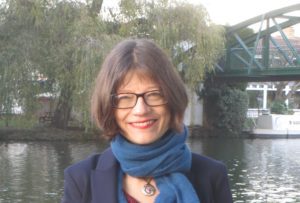 Author Bio:
Clare Chase writes women sleuth mysteries. After graduating from London University with a degree in English Literature, Clare moved to Cambridge and has lived there ever since. She's fascinated by the city's contrasts and contradictions, which feed into her writing. She's worked in diverse settings – from the 800-year-old University to one of the local prisons – and lived everywhere from the house of a Lord to a slug-infested flat. The terrace she now occupies, with her husband and teenage children, presents a good happy medium.
As well as writing, Clare loves family time, art and architecture, cooking, and of course, reading other people's books.
You can find Clare's website and blog at www.clarechase.com
Author Social Media Links: