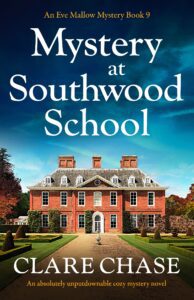 Celebrity Natalie Somerson has made a career out of other people's secrets and when she returns to her former school she confronts new and old enemies. It isn't long before Natalie is found dead and obituary writer and amateur sleuth Eve Mallow is on the case.
Mystery at Southwood School is the 9th book to feature Eve as she combines researching for an obituary with investigating murder.
Almost the first quarter of the book is devoted to setting up motives and introducing us to potential suspects. Natalie has plenty of enemies from her school days as well as the present day. She has a habit of getting into trouble but now someone puts a stop to it for good. I felt torn between liking her rebellious spirit and disliking her cruel streak.
The book is set in a prestigious boarding school and it looks likely that one of the inhabitants could be responsible although Natalie did have a string of past and current lovers. However Eve finds it difficult to believe that the staff or students could commit murder. She needs to investigate the various characters especially as the police suspect her own boyfriend Robin who has his own secrets to protect.
The book maintained my curiosity and every time I thought I was sure of the culprit, there was a twist or clue that made me suspect someone else. I enjoyed meeting up with the characters again and can't believe it is the 9th book in the series already!
Mystery at Southwood School is an enjoyable cosy murder mystery set in a traditional English boarding school.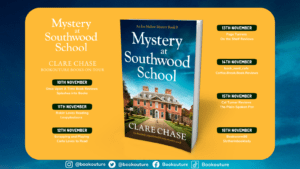 MEDIA
PACK
Book: Mystery at Southwood School
Author: 
Clare
Chase
Pub Day: Nov 10th 2022
Buy Link(s):
Audible:
About the Book:
Eve Mallow's going back to school! But when a former student is murdered, Eve must discover who taught her a deadly lesson…
Eve Mallow

 is delighted when she's asked to cater Founders' Day at Southwood School. It's the best – and most secretive – school for miles around, and Eve can't wait to see what it's really like. But when she arrives, the atmosphere is far from scholarly. Natalie Somerson, ex-pupil and professional gossip, is the guest of honour, but nobody seems to want her there… especially when her speech stirs up an old scandal about a secret love affair. 

So why was she invited?
The next morning, Natalie is found dead in a locked attic room. To make matters worse, Eve's boyfriend Robin becomes the police's prime suspect. Determined to prove his innocence, Eve starts to investigate everyone with a stake in the school. Is it the prudish principal, worried about Natalie's influence? Her former teacher, whose life Natalie made miserable? Or the head girl, who seemed to hate Natalie one day and adore her the next?
When strange letters arrive at the school and Eve finds a bottle of Natalie's perfume in the most unexpected place, she senses time is running out to save Robin's good name. Eve had better study her suspects and unmask the real killer… 
before they give her a fatal mark!
An utterly delightful and page-turning English cozy mystery, perfect for fans of Frances Evesham, J.R. Ellis and Agatha Christie.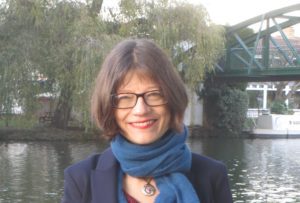 Author Bio
Clare

 

Chase

 writes classic mysteries. Her aim is to take readers away from it all via some armchair sleuthing in atmospheric locations.
Her debut novel was shortlisted for Novelicious's Undiscovered Award, as well as an EPIC award post-publication, and was chosen as a Debut of the Month by LoveReading. Murder on the Marshes (Tara Thorpe 1) was shortlisted for an International Thriller Writers award.
Like her heroines, 
Clare

 is fascinated by people and what makes them tick. Before becoming a full-time writer, she worked in settings as diverse as Littlehey Prison and the University of Cambridge, in her home city. She's lived everywhere from the house of a lord to a slug-infested flat and finds the mid-terrace she currently occupies a good happy medium.
As well as writing, 
Clare

 loves family time, art and architecture, cooking, and of course, reading other people's books.
You can find 
Clare

's website and blog at www.clarechase.com
Social 
Media