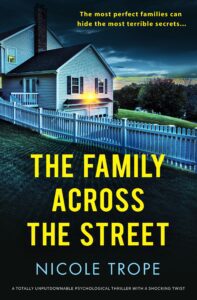 A quiet street disrupted by the sound of gunshots. A family home that has become a prison. A race against time to prevent a tragedy…
The Family Across The Street is a stand alone psychological thriller set in Australia. The book is written from four perspectives: former bad boy Logan, nosy neighbour Gladys, Katherine and her captor. We learn from the prologue that a dangerous crisis is taking place within Katherine's house and then go back in time over the past few hours to see how events unfolded.
I was instantly drawn towards the characters of Logan and Gladys. Their lives have been full of difficulties and they are intensely vulnerable. Logan's life has been blighted by bad choices and a poor upbringing. He is often judged for his criminal background and feels very guilty for his previous behaviour. Gladys cares for her husband Lou who has Parkinsons. They have no children and her world revolves around trying to make human connections to combat the loneliness.
The scenes from Katherine and her captor's viewpoint show the crisis within their family, with 5 year old twins in danger which heightens the tension. There are some violent actions and a gun in involved.
Psychology features heavily in this book, especially with regard to the impact of parenting on a child's psyche. Katherine is concerned about the state of her marriage and considering the possible impact on her twins. Her captor has been significantly affected by his own parents' animosity towards each other. Logan's mother has failed him, causing his behaviour to spiral and he is struggling to prove himself worthy of a second chance.

The Family Across the Street book description:
Sometimes, the most perfect families are hiding the most terrible secrets. How well do you know the people next door…?
Everybody wants to live on Hogarth Street, the pretty, tree-lined avenue with its white houses. The new family, The Wests, are a perfect fit. Katherine and Josh seem so in love and their gorgeous five-year-old twins race screeching around their beautiful emerald-green lawn.
But soon people start to notice: why don't they join backyard barbecues? Why do they brush away offers to babysit? Why, when you knock at the door, do they shut you out, rather than inviting you in?
Every family has secrets, and on the hottest day of the year, the truth is about to come out. As a tragedy unfolds behind closed doors, the dawn chorus is split by the wail of sirens. And one by one the families who tried so hard to welcome the Wests begin to realise: Hogarth Street will never be the same again.
A completely gripping, twist-packed psychological thriller, perfect for fans of Liane Moriarty, Sally Hepworth and Lisa Jewell.

Author Bio:
Nicole Trope went to university to study Law but realised the error of her ways when she did very badly on her first law essay because, as her professor pointed out, 'It's not meant to be a story.'
She studied teaching instead and used her holidays to work on her writing career and complete a Masters' degree. In between raising three children, working for her husband and renovating houses, she has published six novels. She lives in Sydney, Australia.
Buy Links: