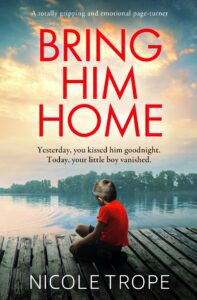 A tourist stumbles across a violent scene: a man has been stabbed, his wife holds the knife, and their autistic son is missing. Can the search party find Theo and bring him back safely…?
Bring Him Home has a dramatic start! Author Nicole Trope throws us straight into the action as tourist Amber finds the ugly family situation. Cecelia is unable to speak and cannot let the police or hospital know what really happened. Her husband is being operated on and their daughter is drunk at a uni bar. It takes a while to realise that 11 year old Theo is missing.
Luckily, Theo finds shelter with Rose and a new plot thread begins as she reminisces about her brother Lionel who also had autism but society treated him very differently. She feels like she let down her brother so helping Theo offers her the chance to redeem herself and find peace in her old age.
The plot is delivered in a linear way with some overlap so that we can see different characters' perceptions of events. This is particularly useful to compare how Theo sees the world in contrast to the neurotypical characters.
I enjoyed all of the different points of views that the author includes. However, it really is Theo's voice that shines through. His perspective makes this book totally unique and engaging. The treatment of autism is handled sensitively but doesn't shy away from a continued lack of understanding of the condition.
Where is he? Where's my beloved child with his father's blue eyes and a halo of golden curls? My little boy is out there on his own. Please keep him safe, I silently beg, please, please just keep him safe.
'Your son is missing,' they say, and life as I know it is over. 'Where would he go?' the police ask. 'Where would he be?' my daughter begs.
My heart races as images flash in my mind. The cabin we rent every autumn, surrounded by fiery red maple trees. Voices raised. Tears falling. A marriage falling apart. And worst of all my husband telling our child, Theo, to run.
The rest is a blank in my memory. If I close my eyes I can almost see it. A betrayal that has left me alone, in tatters, grieving for what we had.
It wasn't meant to be like that. It should have been precious time as a family, with boardgames, walks in the mountain and pancakes for breakfast.
Instead my little one is has vanished. 'They are looking for him,' the nurse told me, 'but the storm is slowing down the search.'
The police think Theo has the answers, that he knows what tore our family apart. But I have no idea where he is. No clue if he is safe. I won't survive unless I bring him home. But if I do, and the truth comes out, will I survive that?
A completely gripping, beautifully written and totally heartbreaking page-turner, which examines what happens behind closed doors, and the secrets that can shatter a family. Fans of Jodi Picoult, Diane Chamberlain and Liane Moriarty will be totally addicted to this breathtaking novel.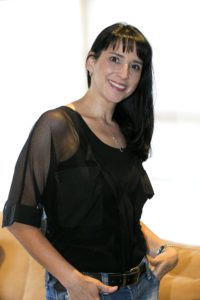 Author Bio:
Nicole Trope went to university to study Law but realised the error of her ways when she did very badly on her first law essay because, as her professor pointed out, 'It's not meant to be a story.'
She studied teaching instead and used her holidays to work on her writing career and complete a Masters' degree. In between raising three children, working for her husband and renovating houses, she has published six novels. She lives in Sydney, Australia.
Buy Links: