TRIGGER WARNING: child and domestic abuse
Five year old Joe goes missing from his vacation home where he is staying with his foster parents Elizabeth and Howard. Has he run away, been snatched or has there been a terrible accident or deliberate attack?
The Foster Family is a psychological thriller set in Australia. The book is written in the present day as well as the recent past to show the weeks leading up to Joe's disappearance. There are also some parts which show a man taking care of an injured teen but how this relates to the main plot unfolds over the course of the book.
The family are hiding an simmering atmosphere of abuse. The perfect facade covers for Howard's cruel behaviour. His abuse of his wife and son are awful, especially when you consider the terrible life that poor little Joe has already endured. Lies hamper the investigation into where and why Joe has gone. Elizabeth is too scared to tell the truth but her love for Joe could make her brave.
I was really affected by elderly neighbour Gordon's chapters as his mental deterioration was heartbreaking to read. There were subtle little touches such as his list and repetitive thoughts. His confusion was so believeable which made his character felt authentic.
The Foster Family is a carefully balanced thriller with a wonderful mystery combined with emotional elements as well as serious social issues.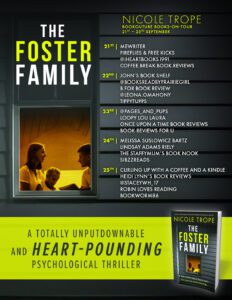 MEDIA PACK
The Foster Family: A totally unputdownable and heart-pounding psychological thriller by Nicole Trope
In their holiday home, a stone's throw from the beach, Elizabeth dials the police with trembling hands. 'My little boy, he's missing.'
Elizabeth is Joe's foster mother, but she loves him like her own. The five-year-old, who adores superheroes and watching the birds outside, is the child she has dreamed of. As she looks into the garden, where he was playing just moments ago, her heart feels like it has been ripped from her chest.
She was meant to save Joe from his birth mother who almost harmed his chances at life. The woman who has been trying to desperately get him back.
She was meant to protect Joe from her husband. The man who, right now, lies to the police, saying he was making breakfast when Joe disappeared. Who squeezes her shoulder, ordering her to be quiet.
She was meant to look after Joe. They are just footsteps from the ocean, and little Joe can't swim.
Then Joe's tiny blue sandal is found in the water. If the worst has happened – the unimaginable – Elizabeth will never forgive herself. Because what if the secret she has been keeping for years, the guilt eating her alive, has somehow hurt her little boy?
It's time to tell the truth – even if it means losing the child who is her whole world. Even if it could be the death of her.
A totally addictive, twist-packed psychological thriller about family secrets, a marriage on the edge, and the deadly line between love and hate. Perfect for fans of Lisa Jewell, Liane Moriarty and Freida McFadden.

About the author
Nicole Trope went to university to study Law but realised the error of her ways when she did very badly on her first law essay because-as her professor pointed out- 'It's not meant to be a story.' She studied teaching instead and used her holidays to work on her writing career and complete a Masters' degree in Children's Literature.
The idea for her first published novel, The Boy under the Table, was so scary that it took a year for her to find the courage to write the emotional story. She went on to publish a further five novels in Australia before joining Bookouture in 2019. She is a USA Today and Amazon bestseller in the USA, UK, AUS and CAN.
Nicole lives in Sydney with her husband and three children.
Author social media
Facebook: @NicoleTrope
Twitter: @nicoletrope
Buy links: