Running after a break is tough! You need to get back into the zone mentally as well as physically.
I am a fair weather runner. It still seems odd calling myself a runner at all! This time last year I had not even thought about running but in June 2020 I embarked upon the Couch to 5k programme. At the end of October I took the desicion to stop for winter as my asthma gets worse in the colder months and I just hate the cold!
In April I decided to start again. I was looking forward to it! The weather was not my friend and it even snowed one morning!
Getting back into running wasn't quite as easy as I'd hoped. My body was out of condition and the muscle memory had to be established again. I had my knee and ankle supports at the ready but luckily didn't need them. Did I mention it snowed?!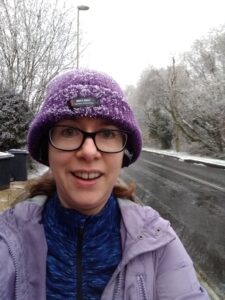 So here are my top tips for getting back into running after a break:
Be realistic on that first run. Don't expect to be able to replicate your pace or distance straightaway. Use your stats from this run to structure your aims

Keep those feet moving. It doesn't matter if you need to take some breaks but slow, don't stop, keep walking.

Set yourself a goal based on how that first run goes. Next time aim to go further OR to run faster OR to reduce your breaks.

Pick some good tunes that suit your pace and will lift your mood. I stream Amazon 90s Pop and sometimes I have a great run but other times it is music I don't enjoy and it has definite impact on my run.

Remember to rest as well as warm up and warm down. I only go running at the weekend and my Sunday run is definitely harder as I'm more tired.
So good luck with your running!
If you are interested in my Couch to 5k journey then take a look at my weekly posts: one, two, three, four, five, six, seven, eight,

nine

.