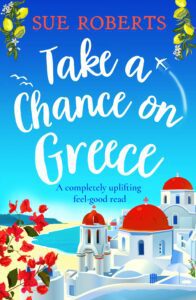 Orla reassesses her life after being treated for a brain tumour. She makes a surprise discovery at her dad's house as she recuperates and heads to Greece. Whilst soaking up the sun and culture, she considers her life choices.
Take A Chance On Greece is a warm and uplifting summer read. However it also has an important message about being brave enough to take chances with whatever life throws at you.
Orla travels to Greece on a mission but also determined to make the most of life's opportunities. She has never had much luck in the romance department but finds herself making positive relationships with a number of men: will one of them capture her heart…? There are multiple possibilities for finding love but Orla needs to focus on herself first. I had no idea which of the lovely men she meets would be the one to give her a happy ending.
There is also the subplot of finding out what she discovered at her dad's house. Again, Orla has to face her fears and be brave in order to make improvements to her life and relationships. This element to the plot develops slowly over the course of the book to increase our understanding of Orla's hesitant personality.
The style of writing is rich with description especially of the scenery and food. This brings the location and atmosphere to life and makes me want to visit Greece!
Take A Chance On Greece is an enjoyable and gentle, romantic, life affirming novel.

Book Description:
Forgetting your troubles surrounded by golden sandy beaches, crystal-clear waters, and chiselled abs… what could possibly go wrong?
For Orla, moving in with her dad at twenty-nine after a health scare wasn't exactly her plan. Neither was finding out he's been keeping a huge family secret…
Ready to put the entire Mediterranean Sea between herself and her dysfunctional family, she packs her bags and checks in to a charming B&B on a sun-drenched Greek island. But the vines climbing the beautiful yellow front and the glittering blue sea aren't the only gorgeous things in view. Her neighbour, sexy writer Georgios, is in search of inspiration, and Orla's caught his eye… if only he would lighten up!
It's a big fat Greek clash of wills as Orla encourages Georgios to put down his pen and start having fun. Who wouldn't love a cruise on a pirate ship, complete with rum and fake swords? Her heart melts as she catches a glimmer of a smile… but over Greek wine and freshly made mezze by candlelight, he gets far too serious, urging Orla to talk about her past. However, as soon as Orla shares her secrets, Georgios abruptly ends the evening…
The next day, confused and angry, Orla heads to the harbour to leave the island. But something makes her hesitate. Should she get on the boat and keep running from her problems, or break free from her past and let her glorious Greek summer last forever?
A completely feel-good read about living life to the full! Perfect for fans of Carole Matthews, Jenny Colgan and Sophie Kinsella.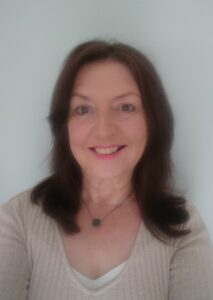 Author Bio:
Sue Roberts lives in Lancashire with her long term partner Derek and has had a lifelong love of writing, encouraged by winning a school writing competition at the age of 11.
She always assumed that 'one day' she would write a book, always having a busy household and a job, the idea remained firmly on the back burner but never forgotten.
The inspiration for her first novel came to her on a holiday to a Greek village. Her daughters had left home and suddenly the time had come to write that book!
Buy Link:
You can sign up for all the best Bookouture deals you'll love at: http://ow.ly/Fkiz30lnzdo