Lady Eleanor Swift travels to France for a holiday. On her first day at the villa, her unflappable butler Clifford discovers a body in the wine cellar and is promptly arrested for murder. Can Ellie prove his innocence and find the real killer?
The French For Murder is the 10th book to feature Eleanor, Clifford and Gladstone the dog.
The action starts straight away and Eleanor cannot believe that death has followed her on holiday. She doesn't recognise the dead man but he is a film star. The French police arrest Clifford even though they don't think he was responsible. To prove Clifford's innocence and gain his freedom, she explores the decadent life of the Americans staying at the resort.
The usual wonderful humour between Clifford and Eleanor continues and I loved the bathing suit scenario. I dread to think how Clifford would cope with modern bikinis! His character is a curious mix of old fashioned attitudes and forward thinking. Ellie's romance with Hugh takes a back seat as they are in different countries! But she has her staff in France with her so there is some familiarity for fans of the series.
I enjoyed the historical detail to the plot, characters and attitudes. The change of scene and the French characters added an extra dimension to the story. We don't get to meet the murder victim before his demise so Ellie needs to delve deep to find out about his life and therefore potential motives.
The French For Murder is an enjoyable cosy murder mystery and a good instalment for the series.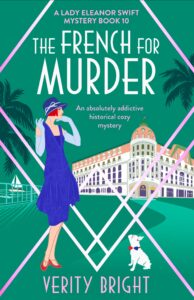 Book Description:
A grand villa, croissants for breakfast and a dead body in the wine cellar… Lady Swift can't seem to take a vacation from murder!
Summer 1923. Lady Eleanor Swift is finally persuaded by her butler, Clifford, to take a villa in the south of France for the season. She plans to do what a glamorous lady abroad should: long lunches on the balcony followed by lazy afternoons lounging by the pool. Even Gladstone the bulldog is looking forward to a daily paddle in the ocean.
But when Clifford examines the wine cellar, he discovers there are no decent reds but there is a very dead body. The victim is famous American movie star Rex Armstrong. Poor Rex seems to have been stabbed with a sword from the film set. So how did he end up in Eleanor's villa?
Before Eleanor even has time to change out of her travelling suit, her beloved butler is arrested for the crime. At sea without her right-hand man, Eleanor must gather her wits if she's to outsmart a murderer and save Clifford.
Attending a glitzy party at the luxurious Hotel Azure with the film's cast and crew so she can question her main suspects, Eleanor overhears the director having a most unsettling telephone call that throws all her theories out of the water. Can Eleanor unmask the true killer before her time abroad is cut murderously short?
A gripping historical murder mystery full of charm and intrigue, set in the beautiful French Riviera. Fans of Agatha Christie, T E Kinsey and Lee Strauss will adore The French for Murder.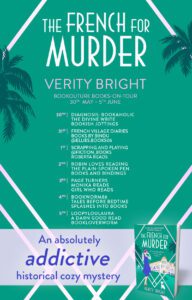 Author Bio:
Verity Bright is the pseudonym for a husband-and-wife writing partnership that has spanned a quarter of a century. Starting out writing high-end travel articles and books, they published everything from self-improvement to humour, before embarking on their first historical mystery. They are the authors of the fabulous Lady Eleanor Swift Mystery series, set in the 1920s.
Buy Link:
You can sign up for all the best Bookouture deals you'll love at: http://ow.ly/Fkiz30lnzdo