What with our holiday and the school holidays, the heatwaves and visiting family, cooking and recipe experiments have not been high on my agenda this month. Take a look at my Scottish vegan experience!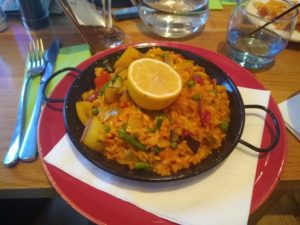 One of my fab finds on holiday was gluten free macaroni in Tesco. I quickly shoved 2 packets in the trolley but when I got home I found some in Sainsburys! The latter only take 5 minutes to cook, perfect for a quick meal! I plan to make macaroni cheese vegan style next month…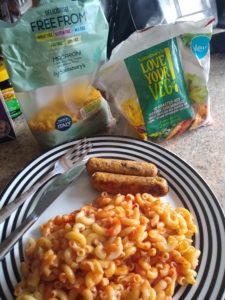 Soup has featured a lot this month despite heatwaves! Yep, hottest bank holiday Monday on record and I ate soup for tea!
We have also been preparing to empty the freezer and defrost it so it has been my job to use up as much as possible.
It was our first wedding anniversary and we went to Bella Italia where we went to celebrate our engagement last January. There was a bit of a disaster when my starter was served with real cheese not vegan, but I spotted it straightaway and it was sorted eventually so I had a lovely meal.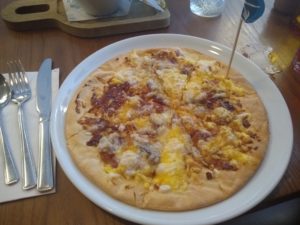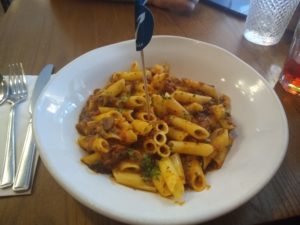 We had a family meal out in Bracknell at TGI Friday's. I chose the veg fajitas. They came with lettuce leaves instead of wraps which were a bit tricky to eat, plus the sauces needed a spoon. The overall taste was good but a little more thought is required to make this better in terms of practicality and value for money.
I had an Asda order delivered and tried out some new things. A soup (another one!) which didn't smell too good but tasted great so I ate the whole thing not just 1 portion! Many gluten free breads use egg to bind them so I was delighted to find only the second brand that I could eat (the other is Tesco vacuum packed one, not a loaf)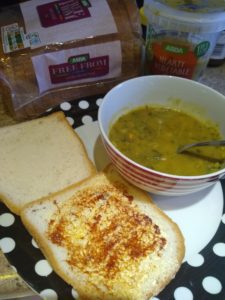 Also in the order were some vegetable nuggets which were crispy but need an accompaniment to make them more interesting. The Equals burger tasted ok but the cooking instructions were annoying and I didn't read them properly so the first one (pictured here) was a little well done.

The frozen mushroom risotto was good and I was impressed it was vegan as most brands contain milk. The serving was a little small for me 🙁

I've never had a teacake before and they are quite like hot cross buns without the glaze going by this version. Some garlic breads that are gluten free and not also free from dairy or egg but the Asda one is!
Our friends hostd their annual BBQ with a Mexican twist as I was overwhelmed by the amount of vegan and gluten free food they offered. The table was colour coded and every dish was labelled. Fabulous friends!