Another month of veganism completed.
Eating out was a major highlight of this month. I went to the Mill House near Odiham twice in a week as it was so good! This mushroom bourguinonne pie was spectacular especially the gluten free pastry combined with the flavours of the filling.

The gluten free vegan margharita pizza at Zizzi was a joy and just what I needed after a frustrating hospital appointment about my allergies. The basil looks a little bit sad but the vegan cheese was quite good and the base was tasty.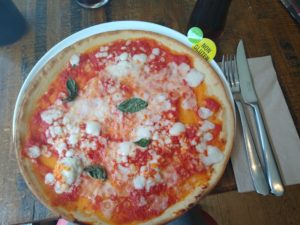 After a hard morning at work, I ate out in a pub ON MY OWN! First time I'd EVER done it. The food was good and I was able to get on with my book, yay!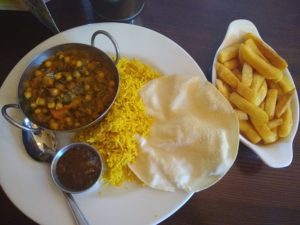 A couple of months ago we went ot the Slug and Lettuce in Portsmouth and the children had these jellies as part of their meal but we actually kept them for me (obviously they didn't go without and had an ice cream in compensation in the dockyards). I love that companies are realising that kids want vegan products too (and adults reliving their youth 🙂 )!
I used my classic crumble recipe (thanks Mum!) to try gooseberries from our garden for the very first time. They were a bit tart but with extra sugar I look forward to collecting more next year! It was a hit with the chilodren and adds to the range of fruit they will try, yay!
I was so disappointed with Daiya cheddar style cheese. I had hoped that the high price tag would be worth it, but the taste was no improvement on the cheaper alternatives so I won't be bothering again (sorry!) I ended up using it in wraps to bolster out other big flavours.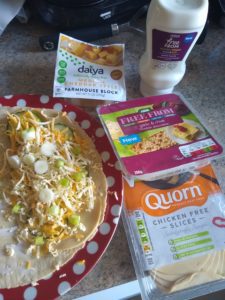 My latest creation is one pan pasta and I am totally addicted to it! So easy to make and also wash up, woohoo! Check out my pasta recipe and try it yourselves 🙂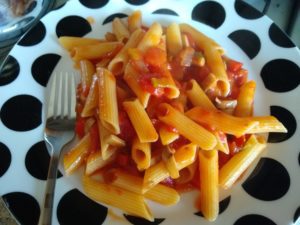 New in Sainsburys frozen range are vegetable sausages. Each mouthful tastes different as they have whole peas and beans in them.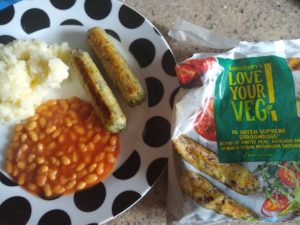 The rest of my family were having ravioli and I wanted to join in so bought this pumpkin and sage version. I combined it with a garlic naan bread which was very tasty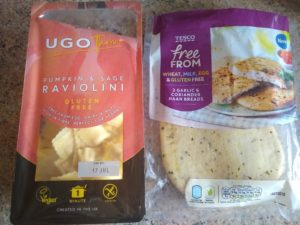 Concluding this post with some delicious crisps. Even more brilliant is that the packet can be composted. Great for sustainability. This was in my Blog On goodie bag!